View Larger Image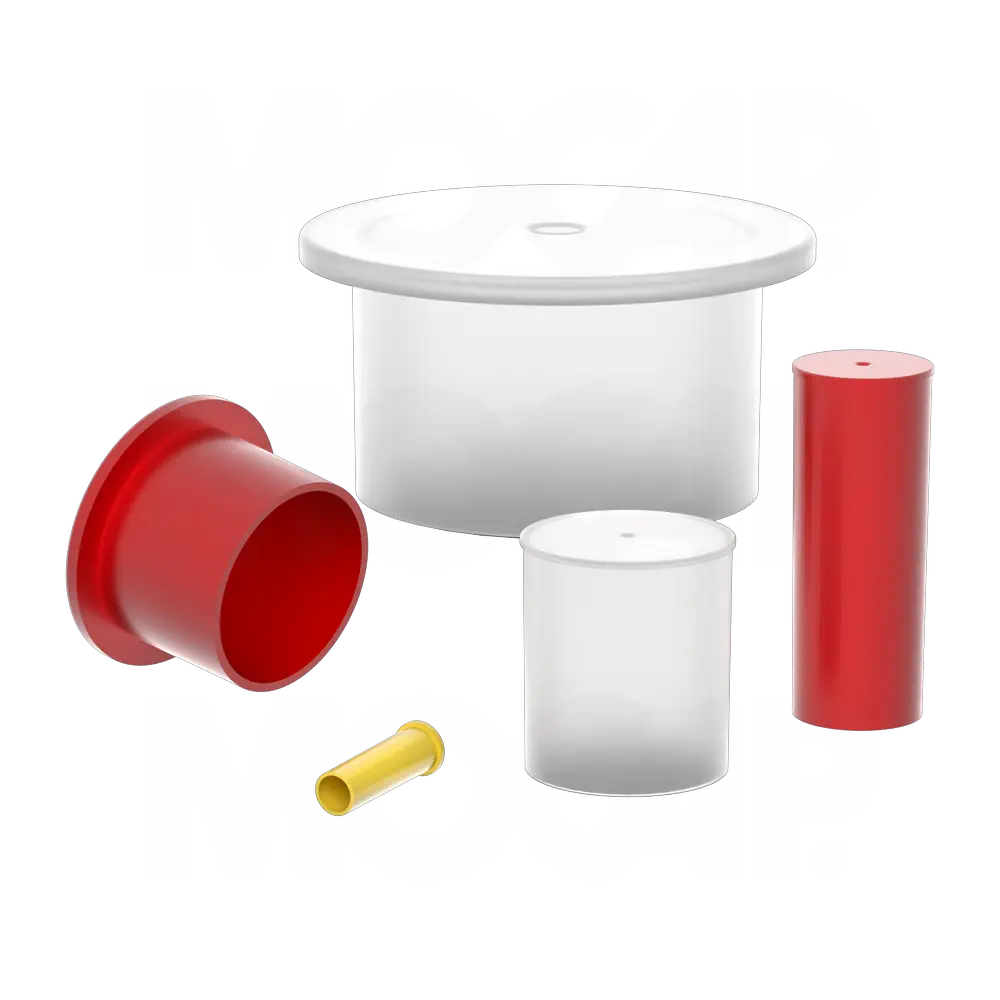 Material: LDPE (Low Density Polyethylene)
Stocked Material: LDPE (Natural), LDPE (Red)
Flanged for Easy Removal
Designed to Fit a Wide Variety of Imperial, Metric, BSP, and NPT Thread Sizes.
Use as Thread Protector or End Cap
Part #
Description
To Fit STD Thread
To Fit METRIC Thread
To Fit NPT
To Fit BSP
Inside Diameter

Large I.D.

Flange OD

Inside Length


Box

/

Mini

/

Micro


QTY

See Prices / Buy Online

FCM-5
Flanged Plastic Caps - FLANGE CAP FOR 5MM MTRC THRDS
M5

0.193

-

-

12.5

0.492

0.591

5000

1000

100

FCM-6
Flared Plastic Caps - FLANGE CAP FOR 6MM MTRC THRDS
M6

0.232

-

-

13.5

0.532

0.787

5000

1000

100

FCSL.313
Flanged Plastic Caps - Threaded Part Protection - FLANGE CAP FOR 5/16" STR THRDS 1.240" LONG LDPE
5/16

0.308

-

-

11.7

0.460

1.240

5000

1000

100

FCM-8
Plastic Flanged Caps for Threaded Applications - FLANGE CAP FOR 8MM MTRC THRDS
M8

0.309

-

-

15.5

0.610

0.787

5000

1000

100

FCS.313L
Polyethylene Plastic Flanged Caps for Standard, Metric, BSP, and NPT Threads - FLANGE CAP FOR 5/16" STR THRDS 0.840" LONG LDPE
5/16

0.310

-

-

13.0

0.510

0.840

10000

2000

200

FCB0125
Flanged Caps for Imperial, Metric, BSP, and NPT Threads - FLANGE CAP FOR 0.125" (1/8") BSP THRDS
1/8

0.344

9.9

0.389

16.5

0.650

0.380

5000

1000

100

FCS.375
Circular Plastic Connector Cap - FLANGE CAP FOR 3/8" STR THRDS 0.470" LONG LDPE
3/8

0.370

-

-

15.2

0.600

0.470

5000

1000

100

FCS.375L
Flanged Plastic Fittings - FLANGE CAP FOR 3/8" STR THRDS 0.840" LONG LDPE
3/8

0.370

-

-

15.2

0.600

0.840

7500

1500

150

FCSL.375
Plastic Connector Cap - FLANGE CAP FOR 3/8" STR THRDS 1.240" LONG LDPE
3/8

0.370

-

-

13.2

0.520

1.240

5000

1000

100

FCN0125
Flanged Plastic Caps - FLANGE CAP FOR 0.125" (1/8") NPT THRDS
1/8

0.383

10.1

0.399

16.8

0.660

0.383

5000

1000

100

FCM-10
Flared Plastic Caps - FLANGE CAP FOR 10MM MTRC THRDS
M10

0.384

-

-

17.5

0.689

0.323

5000

1000

100

FCS.437
Flanged Plastic Caps - Threaded Part Protection - FLANGE CAP FOR 7/16" STR THRDS 0.470" LONG LDPE
7/16

0.428

-

-

17.5

0.690

0.470

5000

1000

100

FCSL.437
Plastic Flanged Caps for Threaded Applications - FLANGE CAP FOR 7/16" STR THRDS 1.330" LONG LDPE
7/16

0.429

-

-

14.7

0.580

1.330

5000

1000

100

FCM-12
Polyethylene Plastic Flanged Caps for Standard, Metric, BSP, and NPT Threads - FLANGE CAP 12MM MTRC THRDS
M12

0.463

-

-

19.5

0.768

0.470

5000

1000

100

FCS.500
Flanged Caps for Imperial, Metric, BSP, and NPT Threads - FLANGE CAP FOR 1/2" STR THRDS 0.470" LONG LDPE
1/2

0.490

-

-

19.1

0.750

0.470

5000

1000

100

FCSL.500
Circular Plastic Connector Cap - FLANGE CAP FOR 1/2" STR THRDS 1.330" LONG LDPE
1/2

0.490

-

-

16.3

0.640

1.330

5000

1000

100

FCBN0250
Flanged Plastic Fittings - FLANGE CAP FOR 0.250" (1/4") BSP-NPT THRDS
1/4
1/4

0.510

13.5

0.533

20.6

0.810

0.530

5000

1000

100

FCM-14
Plastic Connector Cap - FLANGE CAP 14MM MTRC THRDS
M14

0.540

-

-

21.5

0.846

0.470

5000

1000

100

FCS.563
Flanged Plastic Caps - FLANGE CAP FOR 9/16" STR THRDS 0.500" LONG LDPE
9/16

0.550

-

-

20.6

0.810

0.500

5000

1000

100

FCSL.563
Flared Plastic Caps - FLANGE CAP FOR 9/16" STR THRDS 1.410" LONG LDPE
9/16

0.552

-

-

17.8

0.700

1.410

5000

1000

100

FCS.625L
Flanged Plastic Caps - Threaded Part Protection - FLANGE CAP FOR 5/8" STR THRDS 0.840" LONG LDPE
5/8

0.610

-

-

19.3

0.760

0.840

5000

1000

100

FCB0375
Plastic Flanged Caps for Threaded Applications - FLANGE CAP FOR 0.375" (3/8") BSP THRDS
3/8

0.616

16.8

0.661

23.6

0.930

0.530

5000

1000

100

FCM-16
Polyethylene Plastic Flanged Caps for Standard, Metric, BSP, and NPT Threads - FLANGE CAP 16MM MTRC THRDS
M16

0.617

-

-

23.5

0.925

0.470

5000

1000

100

FCN0375
Flanged Caps for Imperial, Metric, BSP, and NPT Threads - FLANGE CAP FOR 0.375" (3/8") NPT THRDS
3/8

0.644

17.0

0.669

23.9

0.940

0.530

5000

1000

100

FCS.687
Circular Plastic Connector Cap - FLANGE CAP FOR 11/16" STR THRDS 0.500" LONG LDPE
11/16

0.676

-

-

23.9

0.940

0.500

5000

1000

100

FCS.687L
Flanged Plastic Fittings - FLANGE CAP FOR 11/16" STR THRDS 0.840" LONG LDPE
11/16

0.676

-

-

23.9

0.940

0.840

5000

1000

100

FCM-18
Plastic Connector Cap - FLANGE CAP 18MM MTRC THRDS
M18

0.696

-

-

25.5

1.004

0.470

5000

1000

100

FCS.750
Flanged Plastic Caps - FLANGE CAP FOR 3/4" STR THRDS 0.670" LONG LDPE
3/4

0.738

-

-

25.4

1.000

0.670

5000

1000

100

FCS.750L
Flared Plastic Caps - FLANGE CAP FOR 3/4" STR THRDS 0.880" LONG LDPE
3/4

0.738

-

-

22.9

0.900

0.880

5000

1000

100

FCSL.750
Flanged Plastic Caps - Threaded Part Protection - FLANGE CAP FOR 3/4" STR THRDS 1.560" LONG LDPE
3/4

0.739

-

-

22.4

0.880

1.560

2500

500

50

FCSL.750L
Plastic Flanged Caps for Threaded Applications - FLANGE CAP FOR 3/4" STR THRDS 2.660" LONG LDPE
3/4

0.739

-

-

22.4

0.880

2.660

2000

400

40

FCM-20
Polyethylene Plastic Flanged Caps for Standard, Metric, BSP, and NPT Threads - FLANGE CAP 20MM MTRC THRDS
M20

0.774

-

-

27.5

1.083

0.553

5000

1000

100

FCBN0500
Flanged Caps for Imperial, Metric, BSP, and NPT Threads - FLANGE CAP FOR 0.500" (1/2") BSP-NPT THRDS
1/2
1/2

0.800

21.2

0.833

27.7

1.090

0.720

3000

600

60

FCS.813
Circular Plastic Connector Cap - FLANGE CAP FOR 13/16" STR THRDS 0.560" LONG LDPE
13/16

0.802

-

-

26.9

1.060

0.560

5000

1000

100

FCM-22
Flanged Plastic Fittings - FLANGE CAP 22MM MTRC THRDS
M22

0.855

-

-

29.5

1.161

0.553

5000

1000

100

FCSL.875
Plastic Connector Cap - FLANGE CAP FOR 7/8" STR THRDS 1.700" LONG LDPE
7/8

0.861

-

-

25.7

1.010

1.700

2500

500

50

FCSL.875L
Flanged Plastic Caps - FLANGE CAP FOR 7/8" STR THRDS 2.660" LONG LDPE
7/8

0.861

-

-

25.7

1.010

2.660

1500

300

30

FCS.875
Flared Plastic Caps - FLANGE CAP FOR 7/8" STR THRDS 0.660" LONG LDPE
7/8

0.864

-

-

28.4

1.120

0.660

4300

860

86

FCSL1.000
Flanged Plastic Caps - Threaded Part Protection - FLANGE CAP FOR 1" STR THRDS 1.800" LONG LDPE
1

0.988

-

-

29.2

1.150

1.800

1500

300

30

FCS1.000
Plastic Flanged Caps for Threaded Applications - FLANGE CAP FOR 1" STR THRDS 0.660" LONG LDPE
1

0.990

-

-

31.8

1.250

0.660

3000

600

60

FCBN0750
Polyethylene Plastic Flanged Caps for Standard, Metric, BSP, and NPT Threads - FLANGE CAP FOR 0.750" (3/4") BSP-NPT THRDS
3/4
3/4

1.011

26.5

1.045

33.3

1.310

0.750

2000

400

40

FCSL1.062
Flanged Caps for Imperial, Metric, BSP, and NPT Threads - FLANGE CAP FOR 1-1/16" STR THRDS 1.890" LONG LDPE
1-1/16

1.049

-

-

30.2

1.190

1.890

1000

200

20

FCSL1.062L
Circular Plastic Connector Cap - FLANGE CAP FOR 1-1/16" STR THRDS 3.000" LONG LDPE
1-1/16

1.049

-

-

30.2

1.190

3.000

900

180

18

FCS1.062
Flanged Plastic Fittings - FLANGE CAP FOR 1-1/16" STR THRDS 0.750" LONG LDPE
1-1/16
M27

1.051

-

-

33.3

1.310

0.750

2400

480

48

FCSL1.125
Plastic Connector Cap - FLANGE CAP FOR 1-1/8" STR THRDS 2.120" LONG LDPE
1-1/8

1.113

-

-

31.8

1.250

2.120

1500

300

30

FCSL1.125L
Flanged Plastic Caps - FLANGE CAP FOR 1-1/8" STR THRDS 3.100" LONG LDPE
1-1/8

1.113

-

-

31.8

1.250

3.100

900

180

18

FCS1.187
Flared Plastic Caps - FLANGE CAP FOR 1-3/16" STR THRDS 0.750" LONG LDPE
1-3/16
M30

1.175

-

-

36.6

1.440

0.750

2000

400

40

FCBN1000
Flanged Plastic Caps - Threaded Part Protection - FLANGE CAP FOR 1.000" (1") BSP-NPT THRDS
1
1

1.267

33.3

1.310

39.6

1.560

0.930

1000

200

20

FCM-33
Plastic Flanged Caps for Threaded Applications - FLANGE CAP 33MM MTRC THRDS
M33

1.285

-

-

40.5

1.594

0.689

2000

400

40

FCS1.313
Polyethylene Plastic Flanged Caps for Standard, Metric, BSP, and NPT Threads - FLANGE CAP FOR 1-5/16" STR THRDS 0.750" LONG LDPE
1-5/16

1.298

-

-

39.6

1.560

0.750

1800

360

36

FCSL1.313
Flanged Caps for Imperial, Metric, BSP, and NPT Threads - FLANGE CAP FOR 1-5/16" STR THRDS 1.890" LONG LDPE
1-5/16

1.299

-

-

36.6

1.440

1.890

1000

200

20

FCS1.437
Circular Plastic Connector Cap - FLANGE CAP FOR 1-7/16" STR THRDS 0.750" LONG LDPE
1-7/16

1.426

-

-

42.9

1.690

0.750

1500

300

30

FCS1.563
Flanged Plastic Fittings - FLANGE CAP FOR 1-9/16" STR THRDS 0.750" LONG LDPE
1-9/16

1.548

-

-

43.4

1.710

0.750

3000

600

60

FCSL1.625
Plastic Connector Cap - FLANGE CAP FOR 1-5/8" STR THRDS 1.920" LONG LDPE
1-5/8

1.611

-

-

44.7

1.760

1.920

500

100

10

FCBN1250
Flanged Plastic Caps - FLANGE CAP FOR 1.250" (1-1/4") BSP-NPT THRDS
1-1/4
1-1/4

1.611

42.0

1.655

49.3

1.940

0.970

800

160

16

FCS1.625
Flared Plastic Caps - FLANGE CAP FOR 1-5/8" STR THRDS 0.850" LONG LDPE
1-5/8

1.612

-

-

47.8

1.880

0.850

1000

200

20

FCS1.687
Flanged Plastic Caps - Threaded Part Protection - FLANGE CAP FOR 1-11/16" STR THRDS 0.750" LONG LDPE
1-11/16

1.672

-

-

48.8

1.920

0.750

1000

200

20

FCB1500
Plastic Flanged Caps for Threaded Applications - FLANGE CAP FOR 1.500" (1-1/2") BSP THRDS
1-1/2

1.839

47.9

1.884

54.6

2.150

0.970

600

120

12

FCBN1500
Polyethylene Plastic Flanged Caps for Standard, Metric, BSP, and NPT Threads - FLANGE CAP FOR 1.500" (1-1/2") BSP-NPT THRDS
1-1/2
1-1/2

1.848

48.1

1.893

54.9

2.160

0.970

600

120

12

FCS1.875
Flanged Caps for Imperial, Metric, BSP, and NPT Threads - FLANGE CAP FOR 1-7/8" STR THRDS 1.080" LONG LDPE
1-7/8

1.860

-

-

53.8

2.120

1.080

800

160

16

FCSL1.875
Circular Plastic Connector Cap - FLANGE CAP FOR 1-7/8" STR THRDS 1.940" LONG LDPE
1-7/8

1.861

-

-

51.1

2.010

1.940

300

60

6

FCB2000
Flanged Plastic Fittings - FLANGE CAP FOR 2.000" (2") BSP THRDS
2

2.305

59.7

2.350

66.3

2.610

1.030

500

100

10

FCN2000
Plastic Connector Cap - FLANGE CAP FOR 2.000" (2") NPT THRDS
2

2.323

60.2

2.370

66.5

2.620

1.030

500

100

10

FCS2.500
Flanged Plastic Caps - FLANGE CAP FOR 2-1/2" STR THRDS 1.300" LONG LDPE
2-1/2

2.485

-

-

69.9

2.750

1.300

400

80

8

FCS3.500
Flared Plastic Caps - FLANGE CAP FOR 3-1/2" STR THRDS 1.340" LONG LDPE
3-1/2

3.485

-

-

103.9

4.090

1.340

250

50

5

Part #
Description
To Fit STD Thread
To Fit METRIC Thread
To Fit NPT
To Fit BSP
Inside Diameter

Large I.D.

Flange OD

Inside Length


Box

/

Mini

/

Micro


QTY

See Prices / Buy Online
Legend:
- Add to Basket
- View Price
Micropacks are only available for purchase through our online store.
Not sure what part you need? Would you like to consider another type or part, or a different material?
Consult MOCAP's
Application Advisor
for assistance.
Flanged Plastic Caps - Information
MOCAP FC Series Flanged Plastic Caps are designed to protect threads with and without o-rings. Protects components or fittings from moisture, dust and damage during production, shipping and storage, and can also be used as low-temp masking during painting and plating. Flanged caps are easy to assemble or remove by hand or automated equipment.


Our
FC Series
are available in sizes to fit:
Straight threads, 5/16" through 3-1/2"
Metric threads, M5 through M33
BSP and NPT threads, sizes 1/8 through 2
The
FC Series
is available in a wide variety of colors, including red and a "natural" semi-transparent colour which allows for visual verification of the threads or o-ring.
Use as Thread Protector or End Cap
Available For Standard Straight, Metric, and BSP/NPT Threads and Fittings
Flanged for Easy Removal
Many Sizes of Our Flanged Plastic Caps are Stocked for Immediate Shipment.
Most stock sizes are available in Mini-Packs when Smaller Quantities are Needed. To place an order for this product, call 0800 046 7436 or use our
Contact Request Form
to receive information by e-mail.