Pull Tab Vinyl Plastic Caps
D
View Larger Image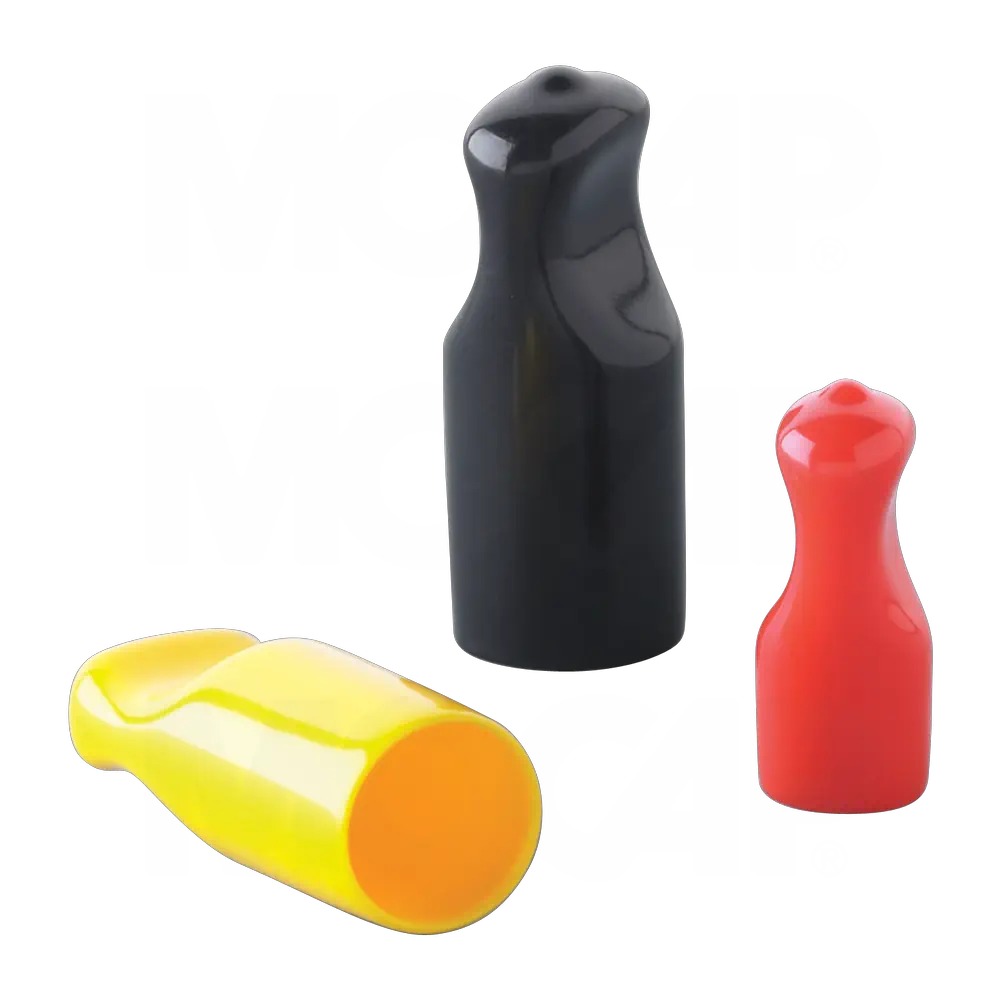 Material: Vinyl
Flexible Yet Durable - Won't Split, Tear or Shred
Flat / Ergonomic Tab for Easy Removal
Stretches for a Snug Fit but Won't Split, Tear or Shred
Part #
Description
Inside Diameter

Min Inside Length

Max Inside Length

Wall Thickness

Tab Height

Stocked Length
mm

Box

/

Mini

/

Micro


QTY

See Prices / Buy Online

D4.8FPTS
UK Pull Tab Vinyl Plastic Caps 4.8MM X ?MM

0.189

0.250

1.000

1.0

0.039

12.7

0.500

12.7

5320

1064

106

D5.5FPTS
UK Pull Tag Caps 5.5MM X ?MM

0.215

0.250

1.000

1.0

0.039

12.7

0.500

12.7

4900

980

98

D6.0FPTS
UK Plastic Pull Tag Caps 6.0MM X ?MM

0.236

0.250

1.000

1.0

0.039

12.7

0.500

12.7

4998

999

99

D6.4FPTS
UK Plastic Pullable Caps 6.4MM X ?MM

0.250

0.250

1.000

1.0

0.039

12.7

0.500

12.7

4845

969

96

D8.0FPTS
UK Round Grab Tab Caps 8.0MM X ?MM

0.313

0.250

1.500

1.0

0.039

16.6

0.655

25.4

2484

496

49

D8.7FPTS
UK Rubber Caps with Grabbable Tab 8.7MM X ?MM

0.343

0.250

1.500

1.0

0.039

17.7

0.695

25.4

2520

504

50

D9.5FPTS
UK Caps with Plastic Grab Tag 9.5MM X ?MM

0.375

0.250

1.500

1.0

0.039

17.7

0.695

25.4

2310

462

46

D10.3FPTS
UK PVC Pull Tab Caps 10.3MM X ?MM

0.406

0.250

1.500

1.4

0.055

18.0

0.709

25.4

2310

462

46

D11.1FPTS
UK Pull Tab Vinyl Caps 11.1MM X ?MM

0.437

0.250

1.500

1.4

0.055

18.4

0.725

25.4

2376

475

47

D11.7FPTS
UK Pull Tab Vinyl Plastic Caps 11.7MM X ?MM

0.460

0.250

1.500

1.4

0.055

19.1

0.750

25.4

2079

415

41

D12.7FPTS
UK Pull Tag Caps 12.7MM X ?MM

0.500

0.250

1.500

1.5

0.060

19.1

0.752

25.4

2079

415

41

D13.5FPTS
UK Plastic Pull Tag Caps 13.5MM X ?MM

0.531

0.250

1.500

1.5

0.060

19.4

0.764

38.1

1026

205

20

D14.3FPTS
UK Plastic Pullable Caps 14.3MM X ?MM

0.562

0.250

1.500

1.5

0.060

15.6

0.613

38.1

1026

205

20

D15.9FPTS
UK Round Grab Tab Caps 15.9MM X ?MM

0.625

0.250

1.500

1.5

0.060

18.0

0.709

38.1

972

194

19

D16.6FPTS
UK Rubber Caps with Grabbable Tab 16.6MM X ?MM

0.655

0.250

1.500

1.5

0.060

20.6

0.812

38.1

918

183

18

D17.5FPTS
UK Caps with Plastic Grab Tag 17.4MM X ?MM

0.687

0.250

1.500

1.5

0.060

20.6

0.812

38.1

918

183

18

D19.0FPTS
UK PVC Pull Tab Caps 19.0MM X ?MM

0.748

0.250

1.500

1.5

0.060

21.0

0.826

38.1

750

150

15

D20.6FPTS
UK Pull Tab Vinyl Caps 20.6MM X ?MM

0.812

0.250

2.000

1.5

0.060

21.3

0.837

38.1

675

135

13

D21.4FPTS
UK Pull Tab Vinyl Plastic Caps 21.4MM X ?MM

0.843

0.250

1.500

1.5

0.060

21.5

0.846

38.1

630

126

12

D22.2FPTS
UK Pull Tag Caps 22.2MM X ?MM

0.875

0.250

1.500

1.5

0.060

21.5

0.846

38.1

560

112

11

D23.8FPTS
UK Plastic Pull Tag Caps 23.8MM X ?MM

0.937

0.250

1.500

1.5

0.060

21.7

0.853

38.1

455

91

9

D25.4FPTS
UK Plastic Pullable Caps 25.4MM X ?MM

1.000

0.250

1.500

1.5

0.060

21.8

0.858

38.1

432

86

8

D27.0FPTS
UK Round Grab Tab Caps 27.0MM X ?MM

1.062

0.250

1.500

1.5

0.060

21.8

0.858

38.1

308

61

6

D28.6FPTS
UK Rubber Caps with Grabbable Tab 28.6MM X ?MM

1.125

0.250

2.000

1.5

0.060

21.8

0.858

-

--

--

--

D31.8FPTS
UK Caps with Plastic Grab Tag 31.8MM X ?MM

1.250

0.250

2.000

1.5

0.060

21.8

0.858

38.1

560

112

11

Part #
Description
Inside Diameter

Min Inside Length

Max Inside Length

Wall Thickness

Tab Height

Stocked Length
mm

Box

/

Mini

/

Micro


QTY

See Prices / Buy Online
Legend:
- Add to Basket
- View Price
'D' dimension varies by size. Contact MOCAP Sales for details.
Wall thickness is measured approx. 6.35mm (.25 inch) from open end. Wall thickness increases slightly towards the closed end of the part
Micropacks are only available for purchase through our online store.
Not sure what part you need? Would you like to consider another type or part, or a different material?
Consult MOCAP's
Application Advisor
for assistance.
Pull Tab Vinyl Plastic Caps - Information
MOCAP Pull Tab Vinyl Plastic Caps have an ergonomic design which allows for easy removal from your part. Pull tab plastic caps offer excellent protection from moisture and contaminates. These plastic caps stretch just enough to form for a secure fit and will not fall off during shipment.

Our round vinyl plastic
pull tab caps
can be produced in various colours, wall thicknesses, hardness durometers and lengths to 38.1mm (1-1/2"). The advantages of the vinyl dip moulding process allows
MOCAP
to offer any of these options with no additional tooling charges.
MOCAP
vinyl caps are often referred to as a rubber cap because of their
pliable feel and flexibility
. Use vinyl plastic caps as
end caps
,
pipe caps
,
tube caps
or for appearance finishing on your product. Pull tab plastic caps also provide
inexpensive but tough protection
to your valuable product line.
MOCAP can manufacture vinyl plastic pull tab caps made-to-order with the fastest lead-times in the industry.
Flexible Vinyl Plastic for Snug Fit
Ergonomic Tab for Easy Removal
Sizes to Fit 4.8mm (3/16") to 31.8mm (1-1/2") Diameters
Product Protection
Use our pull tab vinyl plastic caps as durable and inexpensive caps to protect your product threads or surfaces during assembly or shipping.
Masking ApplicationsMOCAP
vinyl plastic pull tab caps are often used as
inexpensive and disposable
single use
masking caps
for painting and coating processes under 212°F(100°C). The pull tab end makes removal easy. For higher temperatures, consider High Temperature Vinyl good to 446°F(230°C), EPDM Masking Products good to 300°F(149°C), or Silicone Masking Products good up to 600°F(316°C).
Most stock sizes are available in Mini-Packs when Smaller Quantities are Needed. To place an order for this product, call 0800 046 7436 or use our
Contact Request Form
to receive information by e-mail.