Square Vinyl Plastic Caps
AS
View Larger Image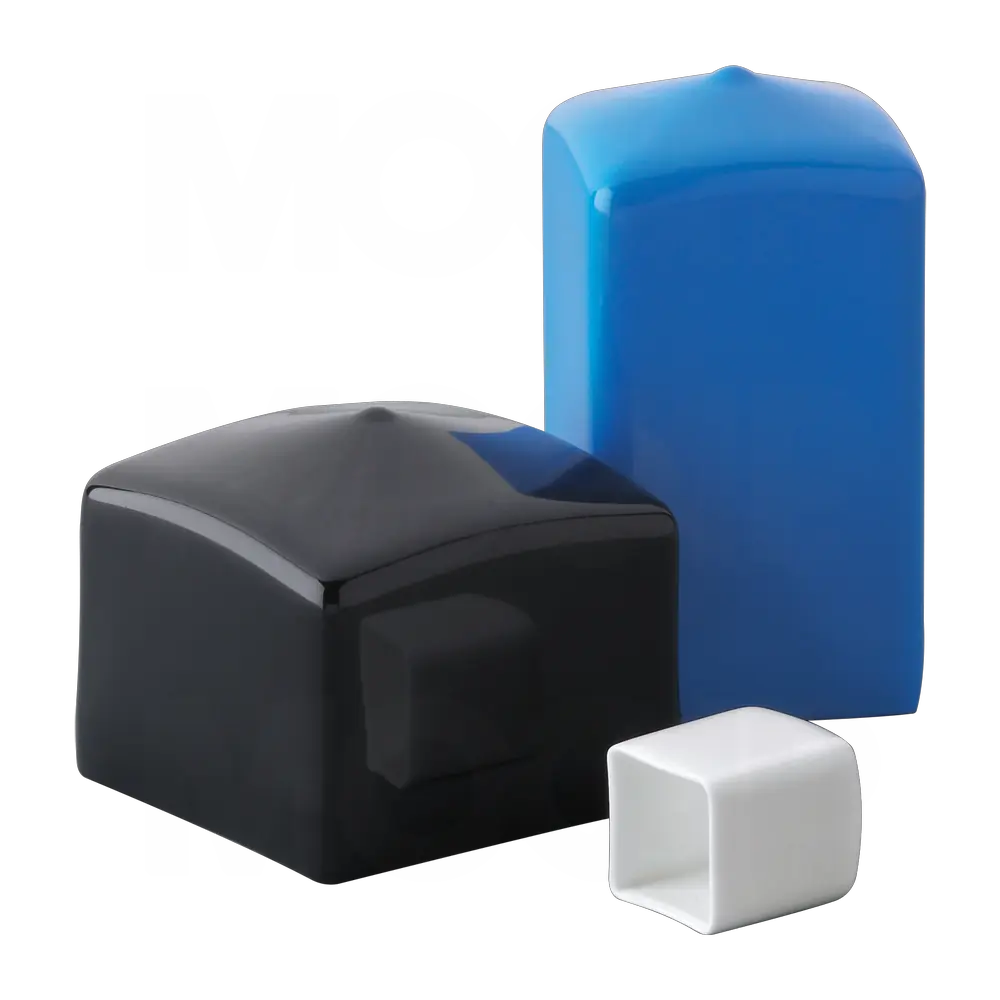 Material: Vinyl
Durable
Stretches for a Snug Fit but Won't Split, Tear or Shred
Part #
Description
Inside Width

Min Inside Length

Max Inside Length

Wall Thickness

Stocked Length
mm

See Prices / Buy Online

AS10.7S
UK Square Vinyl Plastic Caps 10.7MM X ?MM

0.420

0.250

0.500

1.5

0.060

-
AS12.7S
UK Square Plastic End Caps 12.7MM X ?MM

0.500

0.250

5.906

1.5

0.060

-
AS15.6S
UK Square Rubber Bungs 15.6MM X ?MM

0.615

0.250

1.575

1.5

0.060

-
AS19.0S
UK Protective Square Masking Caps 19.0MM X ?MM

0.748

0.250

8.858

1.5

0.060

-
AS25.4S
UK Square Rubber Caps 25.4MM X ?MM

1.000

0.250

4.724

1.5

0.060

-
AS31.8S
UK Square Vinyl Plastic Caps 31.8MM X ?MM

1.250

0.250

3.500

1.7

0.065

-
AS44.5S
UK Square Plastic End Caps 44.5MM X ?MM

1.752

0.250

3.000

1.7

0.065

-
AS50.8S
UK Square Rubber Cap 50.8MM X ?MM

2.000

0.250

3.500

1.7

0.065

-
AS59.0S
UK Square Cap 59.0MM X ?MM

2.323

0.250

4.000

1.7

0.065

-
AS100.0S
UK Square Vinyl Plastic Caps 100.0MM X ?MM

3.937

0.250

2.362

1.7

0.065

-
Part #
Description
Inside Width

Min Inside Length

Max Inside Length

Wall Thickness

Stocked Length
mm

See Prices / Buy Online
Legend:
- Add to Basket
- View Price
Wall thickness is measured approx. 6.35mm (.25 inch) from open end. Wall thickness increases slightly towards the closed end of the part
Not sure what part you need? Would you like to consider another type or part, or a different material?
Consult MOCAP's
Application Advisor
for assistance.
Square Vinyl Plastic Caps - Information
MOCAP Square Vinyl Plastic Caps
are
tough
yet
flexible
. These square plastic caps stretch just enough for a
perfect fit on square tubing
and
other square shapes
. These square caps are designed for
product protection
or
quality finishing to square parts. Available in a wide range of square sizes.
Durable and Flexible
Sizes to Fit from 10.7mm (0.420") to 100.0mm (3.93") Square
Manufactured to Order, to your required Internal Length
Many Colour Options
MOCAP square vinyl plastic caps
are available in most sizes to fit your application.