High Temperature Round Vinyl Caps
H
View Larger Image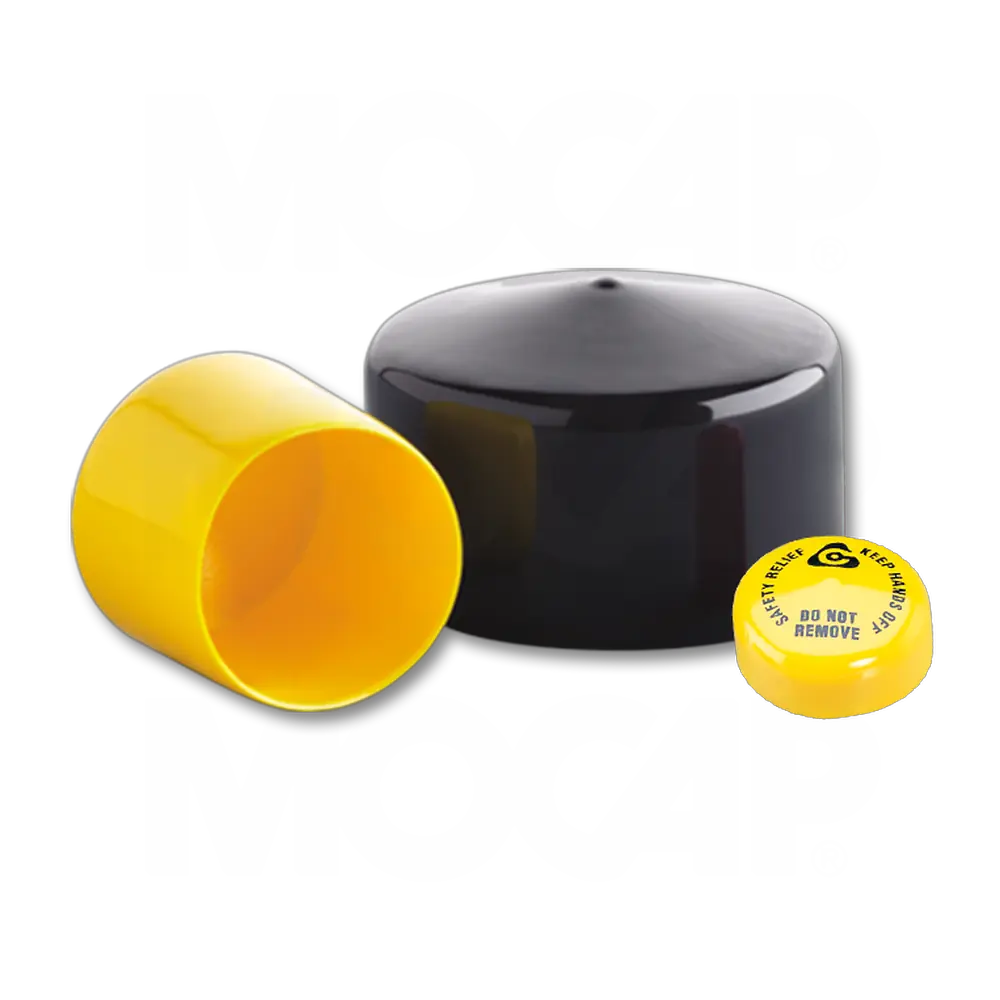 Material: High-Temp Vinyl
Flexible Yet Durable - Won't Split, Tear or Shred
Part #
Description
To Fit STD Thread
To Fit METRIC Thread
To Fit NPT
Inside Diameter

Min Inside Length

Max Inside Length

Wall Thickness

Stocked Length
mm

See Prices / Buy Online

A1.6H
UK High Temperature Round Vinyl Caps 1.6MM X ?MM
#1

0.063

0.188

0.500

0.7

0.028

-
A1.8H
UK High-Temp Round Vinyl Caps 1.8MM X ?MM
#1, #2

0.071

0.188

0.630

0.7

0.028

-
A2.0H
UK High Temp Round Masking Caps 2.0MM X ?MM
#2, #3

0.079

0.188

0.787

0.7

0.028

-
A2.4H
UK High Temperature Round Plastic Caps 2.4MM X ?MM
#3, #4

0.094

0.188

0.866

0.7

0.028

-
A2.8H
UK Round Plastic Hi-Temp Cap 2.8MM X ?MM
#4, #5

0.110

0.188

1.000

1.2

0.047

-
A3.0H
UK High Temperature Round Vinyl Caps 3.0MM X ?MM
#4, #5

0.118

0.188

1.000

1.2

0.047

-
A3.2H
UK High-Temp Round Vinyl Caps 3.2MM X ?MM
#5 , #6

0.126

0.188

1.500

1.2

0.047

-
A3.5H
UK High Temp Round Masking Caps 3.5MM X ?MM
M4

0.138

0.188

1.500

1.2

0.047

-
A4.0H
UK High Temp Vinyl Round Cap 4.0MM X ?MM
#8
M4

0.157

0.188

1.500

1.4

0.055

-
A4.4H
UK High Temperature Round Vinyl Caps 4.4MM X ?MM
#10
M5

0.173

0.188

2.000

1.4

0.055

-
A4.8H
UK High-Temp Round Vinyl Caps 4.8MM X ?MM
M5

0.189

0.188

2.000

1.4

0.055

-
A4.9H
UK High Temp Round Masking Caps 4.9MM X ?MM
M5

0.193

0.188

1.500

1.4

0.055

-
A5.3H
UK High Temperature Round Plastic Caps 5.3MM X ?MM
#12

0.209

0.188

1.500

1.4

0.055

-
A5.8H
UK Round Plastic Hi-Temp Cap 5.8MM X ?MM
1/4 - 20
M6

0.228

0.188

1.500

1.4

0.055

-
A6.0H
UK High Temperature Round Vinyl Caps 6.0MM X ?MM
1/4 - 20
M6

0.236

0.188

2.000

1.4

0.055

-
A6.4H
UK High-Temp Round Vinyl Caps 6.4MM X ?MM
1/4 - 20

0.252

0.188

2.000

1.4

0.055

-
A7.0H
UK High Temp Round Masking Caps 7.0MM X ?MM
1/4 - 20

0.276

0.188

1.500

1.4

0.055

-
A7.1H
UK High Temp Vinyl Round Cap 7.1MM X ?MM

0.280

0.188

2.000

1.4

0.055

-
A7.5H
UK High Temperature Round Vinyl Caps 7.5MM X ?MM
5/16 - 24
M8

0.295

0.188

2.000

1.4

0.055

-
A7.8H
UK High-Temp Round Vinyl Caps 7.8MM X ?MM
5/16 - 24
M8

0.307

0.188

2.000

1.4

0.055

-
A8.0H
UK High Temp Round Masking Caps 8.0MM X ?MM

0.315

0.188

2.000

1.4

0.055

-
A8.7H
UK High Temperature Round Plastic Caps 8.7MM X ?MM

0.343

0.188

2.000

1.4

0.055

-
A9.3H
UK Round Plastic Hi-Temp Cap 9.3MM X ?MM
3/8 - 24

0.366

0.188

2.000

1.4

0.055

-
A9.5H
UK High Temperature Round Vinyl Caps 9.5MM X ?MM
3/8 - 24
M10

0.374

0.188

2.000

1.4

0.055

-
A9.9H
UK High-Temp Round Vinyl Caps 9.9MM X ?MM
M10
1/8

0.390

0.188

2.000

1.4

0.055

-
A10.3H
UK High Temp Round Masking Caps 10.3MM X ?MM
7/16 - 20
1/8

0.406

0.188

2.000

1.4

0.055

-
A11.1H
UK High Temp Vinyl Round Cap 11.1MM X ?MM
7/16 - 20
M12

0.437

0.188

2.000

1.4

0.055

-
A11.9H
UK High Temperature Round Vinyl Caps 11.9MM X ?MM
1/2 - 20
M12

0.469

0.188

2.000

1.4

0.055

-
A12.7H
UK High-Temp Round Vinyl Caps 12.7MM X ?MM
1/4

0.500

0.188

2.000

1.4

0.055

-
A13.5H
UK High Temp Round Masking Caps 13.5MM X ?MM
9/16 - 18
M14
1/4

0.532

0.188

2.000

1.4

0.055

-
A14.3H
UK High Temperature Round Plastic Caps 14.3MM X ?MM
9/16 - 18

0.563

0.188

2.000

1.5

0.059

-
A15.5H
UK Round Plastic Hi-Temp Cap 15.5MM X ?MM
5/8 - 18
M16

0.610

0.188

2.000

1.5

0.059

-
A15.9H
UK High Temperature Round Vinyl Caps 15.9MM X ?MM
11/16 - 16
M16
3/8

0.626

0.188

2.000

1.5

0.059

-
A17.5H
UK High-Temp Round Vinyl Caps 17.5MM X ?MM
3/4 - 16
M18

0.689

0.188

2.000

1.5

0.059

-
A19.0H
UK High Temp Round Masking Caps 19.0MM X ?MM
13/16 - 16
M20

0.748

0.188

2.000

1.5

0.059

-
A20.6H
UK High Temp Vinyl Round Cap 20.6MM X ?MM
13/16 - 16
1/2

0.811

0.188

2.000

1.5

0.059

-
A21.4H
UK High Temperature Round Vinyl Caps 21.4MM X ?MM
7/8 - 14
M22

0.843

0.188

2.000

1.5

0.059

-
A22.2H
UK High-Temp Round Vinyl Caps 22.2MM X ?MM
7/8 - 14

0.874

0.188

2.000

1.5

0.059

-
A23.8H
UK High Temp Round Masking Caps 23.8MM X ?MM
1 - 16
M24

0.937

0.188

2.000

1.5

0.059

-
A24.6H
UK High Temperature Round Plastic Caps 24.6MM X ?MM
1 - 16
M25

0.969

0.188

2.000

1.5

0.059

-
A25.4H
UK Round Plastic Hi-Temp Cap 25.4MM X ?MM
1-1/16 - 12
M26
3/4

1.000

0.250

2.000

1.5

0.059

-
A27.0H
UK High Temperature Round Vinyl Caps 27.0MM X ?MM
1-1/16 - 12
M27

1.063

0.250

2.000

1.5

0.059

-
A28.6H
UK High-Temp Round Vinyl Caps 28.6MM X ?MM
1-3/16 - 12
M30

1.126

0.250

2.000

1.5

0.059

-
A30.2H
UK High Temp Round Masking Caps 30.2MM X ?MM
1-3/16 - 12

1.189

0.250

2.000

1.5

0.059

-
A31.8H
UK High Temp Vinyl Round Cap 31.8MM X ?MM
1-5/16 - 12
M32
1

1.252

0.250

2.000

1.5

0.059

-
A33.4H
UK High Temperature Round Vinyl Caps 33.4MM X ?MM
1-5/16 - 12
M35
1

1.315

0.250

1.500

1.5

0.059

-
A34.9H
UK High-Temp Round Vinyl Caps 34.9MM X ?MM
1-7/16 - 12
M35,M36

1.374

0.250

2.000

1.5

0.059

-
A36.1H
UK High Temp Round Masking Caps 36.1MM X ?MM
M37

1.421

0.250

2.000

1.5

0.059

-
A37.2H
UK High Temperature Round Plastic Caps 37.2MM X ?MM
M38 M38

1.465

0.250

2.000

1.5

0.059

-
A38.1H
UK Round Plastic Hi-Temp Cap 38.1MM X ?MM
1-5/8 - 12
M39,M40

1.500

0.250

2.000

1.5

0.059

-
A39.7H
UK High Temperature Round Vinyl Caps 39.7MM X ?MM
1-11/16 - 12
1-1/4

1.563

0.250

2.000

1.5

0.059

-
A41.3H
UK High-Temp Round Vinyl Caps 41.3MM X ?MM
1-11/16 - 12
M42
1-1/4

1.626

0.250

2.000

1.5

0.059

-
A42.0H
UK High Temp Round Masking Caps 42.0MM X ?MM
1-11/16 - 12
M42
1-1/4

1.654

0.250

2.000

1.5

0.059

-
A42.9H
UK High Temp Vinyl Round Cap 42.9MM X ?MM
1-11/16 - 12
1-1/4

1.689

0.250

2.000

1.5

0.059

-
A44.5H
UK High Temperature Round Vinyl Caps 44.5MM X ?MM
M45

1.752

0.250

2.000

1.5

0.059

-
A47.6H
UK High-Temp Round Vinyl Caps 47.6MM X ?MM
1-7/8 - 12
M48
1-1/2

1.874

0.250

2.000

1.5

0.059

-
A48.5H
UK High Temp Round Masking Caps 48.5MM X ?MM

1.909

0.250

2.000

1.5

0.059

-
A49.0H
UK High Temperature Round Plastic Caps 49.0MM X ?MM
M49,M50

1.929

0.250

2.000

1.5

0.059

-
A50.8H
UK Round Plastic Hi-Temp Cap 50.8MM X ?MM
2
M52

2.000

0.250

2.000

1.5

0.059

-
A52.7H
UK High Temperature Round Vinyl Caps 52.7MM X ?MM
M53,M54

2.075

0.250

2.000

1.5

0.059

-
A54.0H
UK High-Temp Round Vinyl Caps 54.0MM X ?MM

2.126

0.250

2.000

1.5

0.059

-
A55.0H
UK High Temp Round Masking Caps 55.0MM X ?MM

2.165

0.250

2.000

1.5

0.059

-
A57.2H
UK High Temp Vinyl Round Cap 57.2MM X ?MM
2-1/4 - 12
M58,M60
2

2.252

0.250

2.000

1.5

0.059

-
A60.3H
UK High Temperature Round Vinyl Caps 60.3MM X ?MM
2-1/2 - 12
2

2.374

0.250

2.000

1.5

0.059

-
A63.5H
UK High-Temp Round Vinyl Caps 63.5MM X ?MM
2-1/2 - 12
M64

2.500

0.250

2.000

1.5

0.059

-
A66.7H
UK High Temp Round Masking Caps 66.7MM X ?MM
M68

2.626

0.250

1.417

1.5

0.059

-
A69.9H
UK High Temperature Round Plastic Caps 69.9MM X ?MM
M72
2-1/2

2.752

0.250

2.000

1.5

0.059

-
A76.2H
UK Round Plastic Hi-Temp Cap 76.2MM X ?MM
M80

3.000

0.250

2.000

2.0

0.079

-
A77.0H
UK High Temperature Round Vinyl Caps 77.0MM X ?MM

3.032

0.250

2.000

2.0

0.079

-
A80.0H
UK High-Temp Round Vinyl Caps 80.0MM X ?MM

3.150

0.250

2.000

2.0

0.079

-
A82.6H
UK High Temp Round Masking Caps 82.6MM X ?MM

3.252

0.250

2.000

2.0

0.079

-
A89.0H
UK High Temp Vinyl Round Cap 89.0MM X ?MM
M90
3

3.504

0.250

1.772

2.0

0.079

-
A92.0H
UK High Temperature Round Vinyl Caps 92.0MM X ?MM

3.622

0.250

2.000

2.0

0.079

-
A95.3H
UK High-Temp Round Vinyl Caps 95.3MM X ?MM

3.752

0.250

2.000

2.0

0.079

-
A101.6H
UK High Temp Round Masking Caps 101.6MM X ?MM
M105
3-1/2

4.000

0.250

2.000

2.0

0.079

-
A114.3H
UK High Temperature Round Plastic Caps 114.3MM X ?MM
M115
4

4.500

0.250

2.000

2.0

0.079

-
A117.5H
UK Round Plastic Hi-Temp Cap 117.5MM X ?MM
M120

4.626

0.250

2.000

2.0

0.079

-
A120.0H
UK High Temperature Round Vinyl Caps 120.0MM X ?MM

4.724

0.250

2.000

2.0

0.079

-
A127.5H
UK High-Temp Round Vinyl Caps 127.5MM X ?MM

5.020

0.250

2.000

2.0

0.079

-
A152.0H
UK High Temp Round Masking Caps 152.0MM X ?MM

5.984

0.250

2.000

2.0

0.079

-
A162.0H
UK High Temp Vinyl Round Cap 162.0MM X ?MM

6.378

0.250

2.000

2.0

0.079

-
A200.0H
UK High Temperature Round Vinyl Caps 200.0MM X ?MM

7.874

0.250

2.000

2.0

0.079

-
A214.0H
UK High-Temp Round Vinyl Caps 214.0MM X ?MM

8.425

0.250

2.000

2.0

0.079

-
Part #
Description
To Fit STD Thread
To Fit METRIC Thread
To Fit NPT
Inside Diameter

Min Inside Length

Max Inside Length

Wall Thickness

Stocked Length
mm

See Prices / Buy Online
Legend:
- Add to Basket
- View Price
Wall thickness is measured approx. 6.35mm (.25 inch) from open end. Wall thickness increases slightly towards the closed end of the part
Not sure what part you need? Would you like to consider another type or part, or a different material?
Consult MOCAP's
Application Advisor
for assistance.
High Temperature Round Vinyl Caps - Information
MOCAP High Temperature Vinyl Plastic Masking Caps are the low cost, quality answer to your masking needs. Flexible material allows these plastic caps to seal round and odd shape items. Special high temperature resistant vinyl material withstands up to 446°F(230°C).

High temperature resistant round masking caps are
available in sizes to fit 1.6mm (0.062") to 214.0mm (8.425") diameter parts
.
High-temperature resistant pull tab caps
also available.
Special High Temperature Resistant Plastic Material
Sizes to Fit 1.6mm (0.062") to 214.0mm (8.425") Diameters
Pull Tab Design Also Available