Square Head Plugs for NPT Threads
SPN
View Larger Image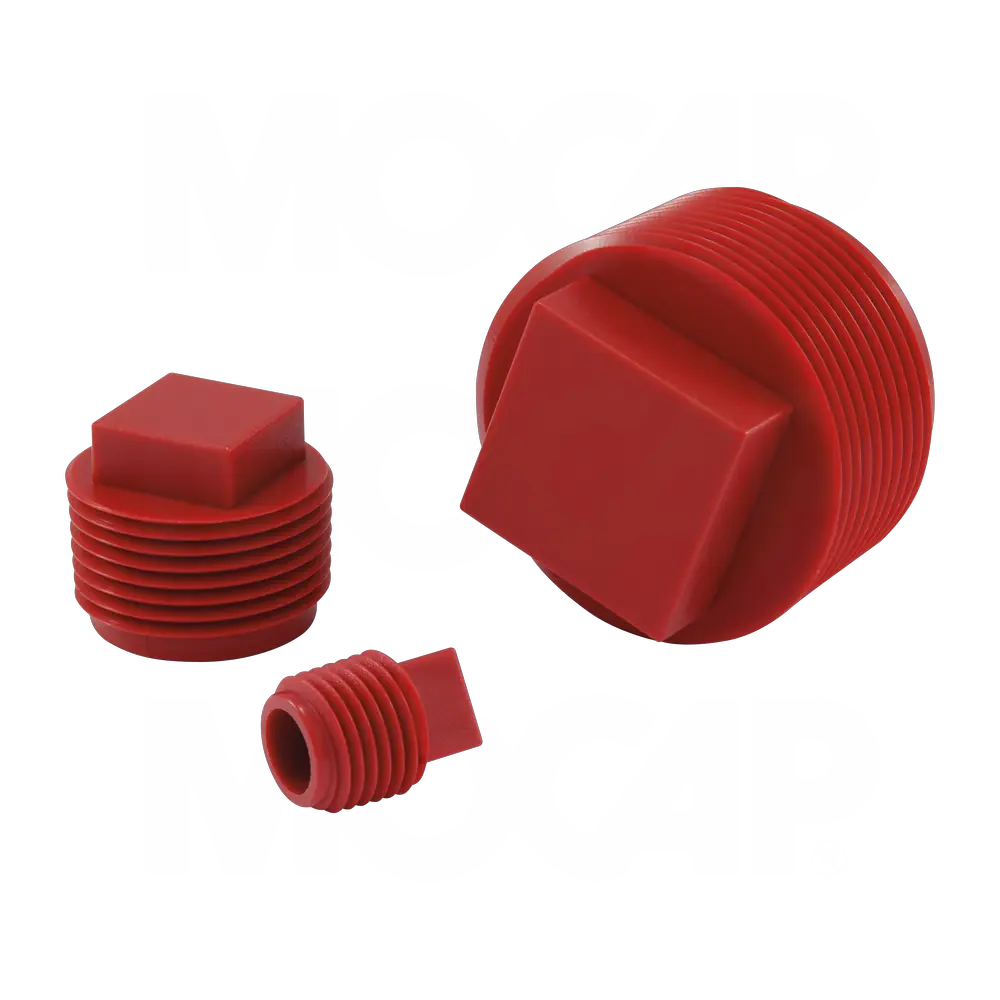 Material: PP (Polypropylene)
Stocked Material: PP (Red)
Designed to Protect Threads from Dust, Dirt, and Moisture During Low-Pressure Testing and In-Plant Handling
Part #
Description
To Fit NPT
Stem Height

Threaded Area Length

Length

Head


See Prices / Buy Online

SPN0125
Square Head Plugs for NPT Threads - SQUARE HEAD PLUG FOR 1/8-27 NPT THRDS
1/8 - 27

6.4

0.250

7.4

0.290

0.370

7.1

0.280

SPN0250
Polypropylene Plastic Square Head Plugs for NPT Threads - SQUARE HEAD PLUG FOR 1/4-18 NPT THRDS
1/4 - 18

6.4

0.250

8.9

0.350

0.430

9.7

0.380

SPN0375
Square Head Threaded Plastic Plug Caps - SQUARE HEAD PLUG FOR 3/8-18 NPT THRDS
3/8 - 18

6.4

0.250

10.7

0.420

0.490

11.2

0.440

SPN0500
Plastic Square Head Bolt for NPT Threads - SQUARE HEAD PLUG FOR 1/2-14 NPT THRDS
1/2 - 14

6.4

0.250

11.9

0.470

0.550

14.2

0.560

SPN0750
Plastic NPT Plugs with Square Head - SQUARE HEAD PLUG FOR 3/4-14 NPT THRDS
3/4 - 14

6.4

0.250

13.2

0.520

0.640

15.7

0.620

SPN1000
Square Head Plugs for NPT Threads - SQUARE HEAD PLUG FOR 1-11-1/2 NPT THRDS
1 - 11-1/2

6.4

0.250

15.0

0.590

0.700

20.6

0.810

SPN1250
Polypropylene Plastic Square Head Plugs for NPT Threads - SQUARE HEAD PLUG FOR 1-1/4-11-1/2 NPT THRDS
1-1/4 - 11-1/2

9.7

0.380

21.1

0.830

0.980

25.4

1.000

SPN1500
Square Head Threaded Plastic Plug Caps - SQUARE HEAD PLUG FOR 1-1/2-11-1/2 NPT THRDS
1-1/2 - 11-1/2

9.7

0.380

21.1

0.830

0.980

31.8

1.250
Legend:
- Add to Basket
- View Price
​
Not sure what part you need? Would you like to consider another type or part, or a different material?
Consult MOCAP's
Application Advisor
for assistance.
Square Head Plugs for NPT Threads - Information
MOCAP Square Head Plugs are designed for use on NPT threads and fittings. The Square Head design allows for easy installation. The Plugs keep ports protected during low-pressure testing and in-house processing or handling, however these are not intended for permanent applications.

Protects threaded components from moisture, dust and damage during production, shipping and storage, and can also be used as masking during painting and plating. Our SPN Series Threaded Plugs are moulded in
Red
polypropylene plastic
and sized to fit NPT threads from 1/8-27 thru 1-1/2-11-1/2.
Many Sizes of Our Square Head Plugs for NPT Threads are Stocked for Immediate Shipment.
Most stock sizes are available in Mini-Packs when Smaller Quantities are Needed. To place an order for this product, call 0800 046 7436 or use our
Contact Request Form
to receive information by e-mail.