Split Hydraulic Flange Plugs
SHF
View Larger Image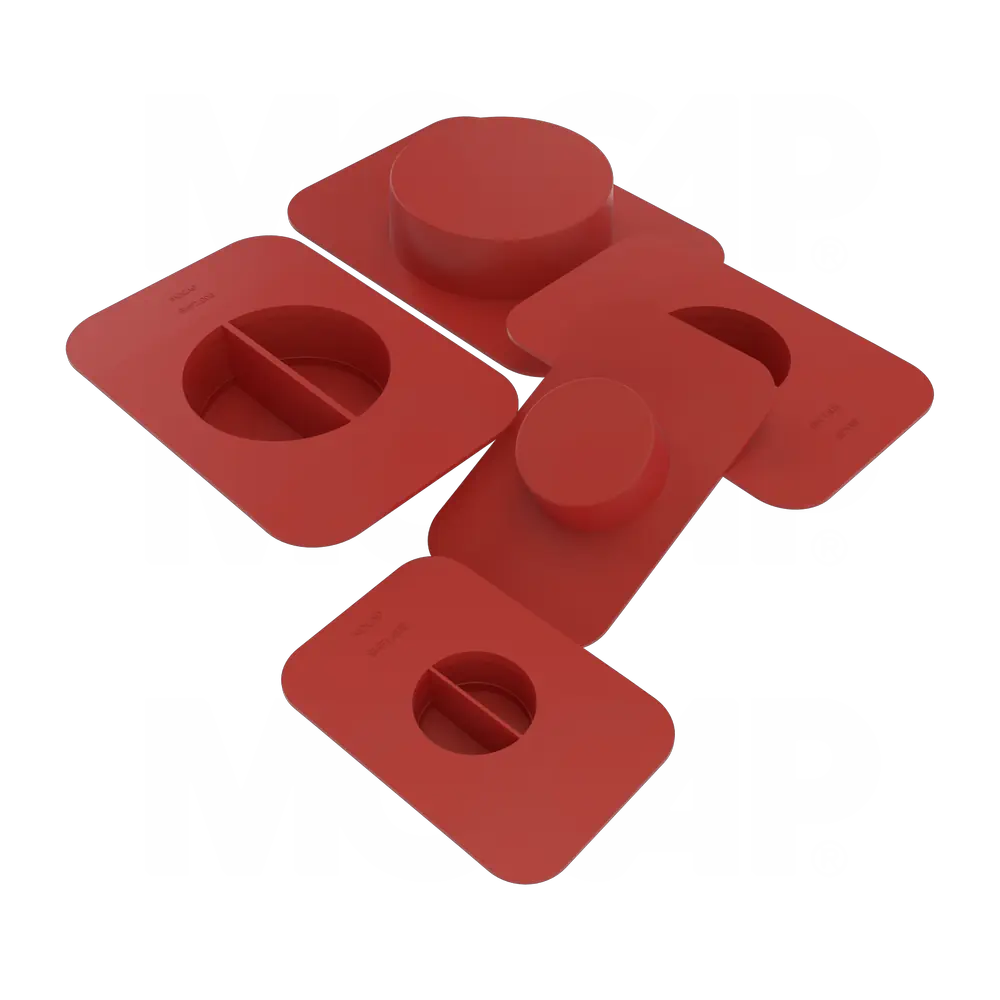 Material: LDPE (Low Density Polyethylene)
Stocked Material: LDPE (Red)
Intended for Use on SAE 3000 LB, Four-bolt Split Hydraulic Flanges
Designed to Protect the Port, Flange Surface and Bolt Holes from Damage and Debris
Part #
Description
To Fit Flange Size
To Fit Dash Size
Small O.D.

Large O.D.

Flange Width

Flange Height

Length


See Prices / Buy Online

SHF.750
Split Hydraulic Flange Plugs - PLUG FOR 3/4"-12 SPLIT HYDRAULIC FLANGE
3/4"
12

18.5

0.730

0.790

65.0

2.560

41.1

1.620

0.500

SHF1.000
Split Flange Plugs - PLUG FOR 1"-16 SPLIT HYDRAULIC FLANGE
1 "
16

24.9

0.980

1.040

69.9

2.750

47.8

1.880

0.500

SHF1.250
SAE 3000 lb Split Hydraulic Flanges - PLUG FOR 1-1/4"-20 SPLIT HYDRAULIC FLANGE
1-1/4"
20

31.2

1.230

1.290

79.2

3.120

50.8

2.000

0.500

SHF1.500
LDPE Split Flange Port Plugs - PLUG FOR 1-1/2"-24 SPLIT HYDRAULIC FLANGE
1-1/2"
24

37.1

1.460

1.550

93.7

3.690

60.5

2.380

0.750

SHF2.000
Plugs for Four-Bolt Split Hydraulic Flanges - PLUG FOR 2"-32 SPLIT HYDRAULIC FLANGE
2 "
32

49.8

1.960

2.050

101.6

4.000

69.9

2.750

0.750

SHF2.500
Plastic Plugs for Split Flange Connections - PLUG FOR 2-1/2"-40 SPLIT HYDRAULIC FLANGE
2-1/2"
40

62.5

2.460

2.550

114.3

4.500

82.6

3.250

0.750
Legend:
- Add to Basket
- View Price
​
Not sure what part you need? Would you like to consider another type or part, or a different material?
Consult MOCAP's
Application Advisor
for assistance.
Split Hydraulic Flange Plugs - Information
MOCAP Split Hydraulic Flange Plugs are designed for use on SAE 3000 lb., four-bolt split hydraulic flanges allowing for maximum flexibility. Designed to protect the port, flange surface and bolt holes from damage and debris during transit, handling and storage, our SHF series Split Hydraulic Flange Plugs are easy to install and remove.


Our SHF Series parts are molded in
red
LDPE plastic
to fit 3/4-12 thru 2-1/2-40 Nominal Flange sizes.
Many Sizes of Our Split Hydraulic Flange Plugs are Stocked for Immediate Shipment.
Most stock sizes are available in Mini-Packs when Smaller Quantities are Needed. To place an order for this product, call 0800 046 7436 or use our
Contact Request Form
to receive information by e-mail.