Polyester High Temperature Discs
W210L
View Larger Image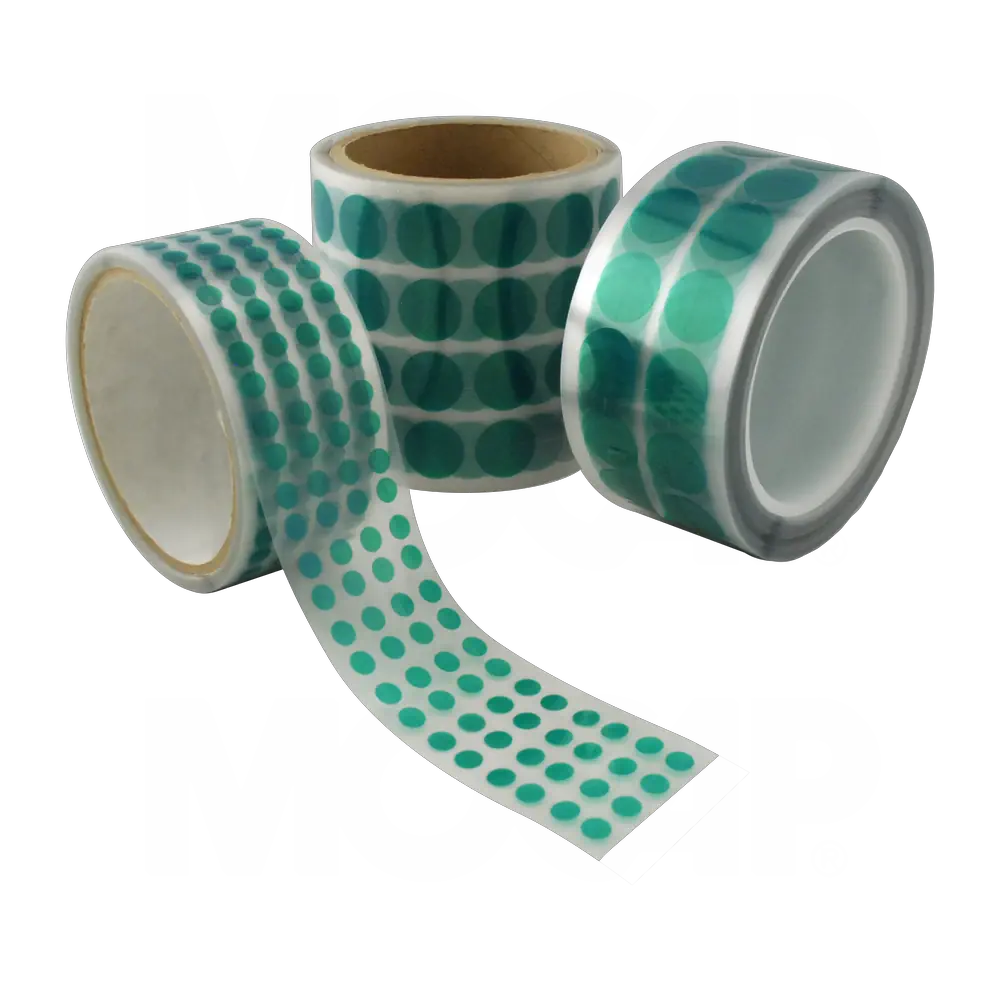 Material: Polyester
Adhesive Leaves No Residue after Removal
Split Backing on 3/8" and Larger Saves Labor Time
| Default | Part # | Description | Diameter | QTY Per Roll | See Prices / Buy Online |
| --- | --- | --- | --- | --- | --- |
| 1 | W210L5 | UK Polyester High Temperature Discs 5.0MM | 0.197 | 5,000 | |
| 2 | W210L6 | UK Polyester Dots and Masking Tape 6.0MM | 0.236 | 5,000 | |
| 3 | W210L8 | UK Polyester Masking Discs 8.0MM | 0.315 | 5,000 | |
| 4 | W210L10 | UK Heat-Resistant Masking Dots 10.0MM | 0.394 | 5,000 | |
| 5 | W210L11 | UK Polyester Discs 11.0MM | 0.433 | 5,000 | |
| 6 | W210L12 | UK Polyester Masking Discs 12.0MM | 0.472 | 2,500 | |
| 7 | W210L14 | UK High Temperature Polyester Masking Discs 14.0MM | 0.551 | 2,500 | |
| 8 | W210L15 | UK Polyester Masking Discs 15.0MM | 0.591 | 2,500 | |
| 9 | W210L16 | UK Heat-Resistant Masking Dots 16.0MM | 0.630 | 2,000 | |
| 10 | W210L19 | UK Polyester High Temperature Discs 19.0MM | 0.748 | 2,000 | |
| 11 | W210L20 | UK Polyester Dots and Masking Tape 20.0MM | 0.787 | 2,000 | |
| 12 | W210L22 | UK Polyester Masking Discs 22.0MM | 0.866 | 2,000 | |
| 13 | W210L25 | UK Heat-Resistant Masking Dots 25.0MM | 0.984 | 2,000 | |
| 14 | W210L28 | UK Polyester Discs 28.0MM | 1.102 | 1,000 | |
| 15 | W210L30 | UK Polyester Masking Discs 30.0MM | 1.181 | 1,000 | |
| 16 | W210L32 | UK High Temperature Polyester Masking Discs 32.0MM | 1.260 | 1,000 | |
| 17 | W210L38 | UK Polyester Masking Discs 38.0MM | 1.496 | 1,000 | |
| 18 | W210L40 | UK Heat-Resistant Masking Dots 40.0MM | 1.575 | 1,000 | |
| 19 | W210L44.4 | UK Polyester High Temperature Discs 44.5MM | 1.748 | 1,000 | |
| 20 | W210L50 | UK Polyester Dots and Masking Tape 50.0MM | 1.969 | 500 | |
| 21 | W210L55 | UK Polyester Masking Discs 55.0MM | 2.165 | 500 | |
| 22 | W210L60 | UK Heat-Resistant Masking Dots 60.0MM | 2.362 | 500 | |
| 23 | W210L76 | UK Polyester Discs 76.0MM | 2.992 | 500 | |
| Default | Part # | Description | Diameter | QTY Per Roll | See Prices / Buy Online |
Legend:
- Add to Basket
- View Price
Not sure what part you need? Would you like to consider another type or part, or a different material?
Consult MOCAP's
Application Advisor
for assistance.
Polyester High Temperature Discs - Information
MOCAP High Temperature Polyester Discs are in stock and ready for immediate shipment. Polyester discs are great for high temperature applications such as powder coating because they resist temperatures up to 425°F(218°C) for 1 hour. For higher temperature masking applications, consider polyimide discs which resist continuous temperatures up to 500°F(260°C) for 1 hour and protect against short exposures over 700°F(371°C). Polyester and polyimide tapes are also available for masking larger areas which discs can't mask. Polyester and polyimide tapes are stocked on wide rolls and can be cut to your specific width and shipped within 1-2 business days upon request. Polyimide is also known by its trade name Kapton™, however MOCAP's polyimide discs are not the Kapton™ brand yet they perform equally as well.


Polyester Discs are Easily Removed after Use
Silicone Based Adhesive Leaves No Residue after Removal
Unique Split Backing is Standard on All Discs 10mm and Larger
MOCAP
also offers more discs per roll to reduce inventory, eliminate time for changing rolls and reduced piece price.
MOCAP manufactures a full line of masking products including many types and sizes of masking caps and plugs available in silicone rubber, EPDM rubber and high temperature vinyl. Most are stocked for immediate shipment.
CLICK HERE to view MOCAP's other masking products.