EPDM Rubber Washer Plugs
KMFP
View Larger Image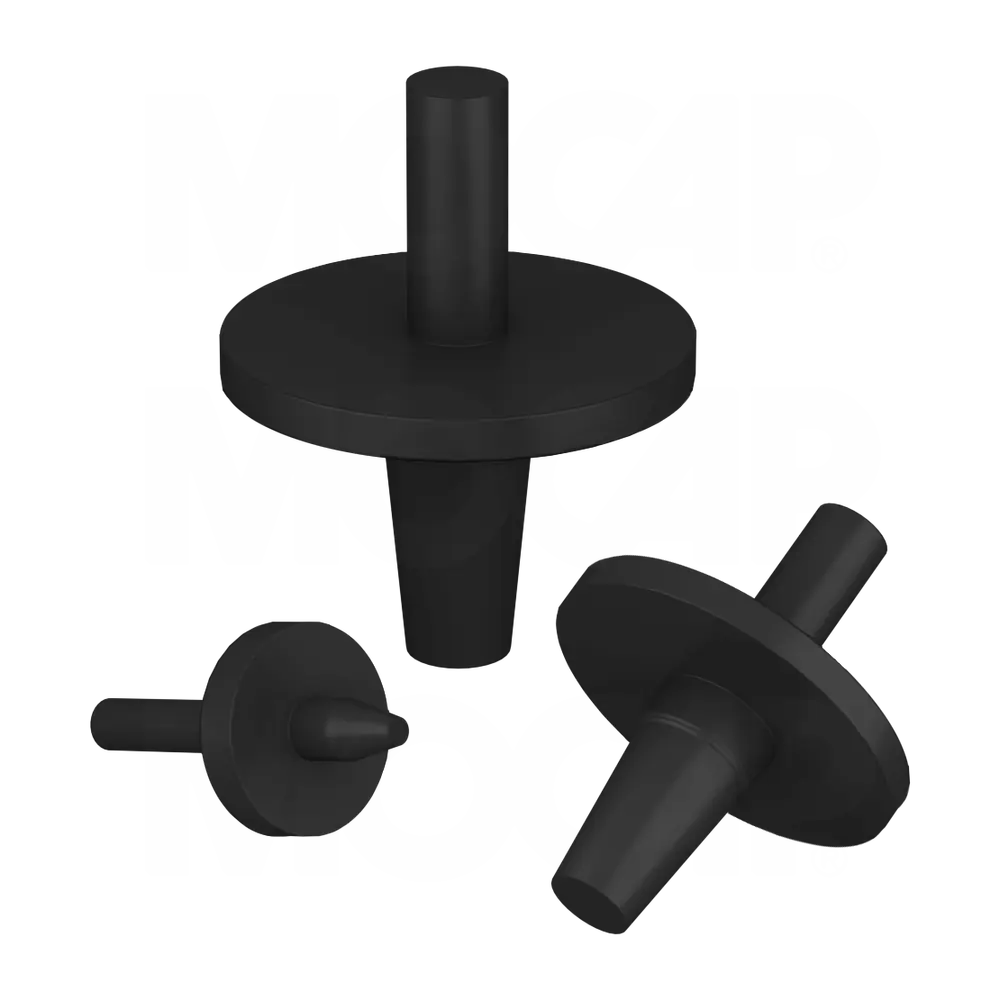 Material: EPDM (Ethylene Propylene Diene Monomer)
Features a Flange for Masking the Area Around a Hole
Part #
Description
Stem Diameter

Plug Small Diameter

Plug Large Diameter

Flange OD

Length

Bevel Length

Stem Height

Flange Thickness


See Prices / Buy Online

KMFP2.4R10.0B
UK EPDM Rubber Washer Plugs 2.4MM X 10.0MM

4.0

0.156

0.060

0.094

10.0

0.393

0.098

4.0

0.156

15.0

0.590

3.0

0.118

KMFP3.6R12.0B
UK Rubber Washer Plug 3.6MM X 12.0MM

4.0

0.156

0.078

0.141

12.0

0.472

0.125

4.0

0.156

15.0

0.590

3.0

0.118

KMFP4.5R12.0B
UK EPDM Tapered Masking Plugs 4.5MM X 12.0MM

4.0

0.156

0.110

0.177

12.0

0.472

0.137

5.5

0.216

15.0

0.590

3.0

0.118

KMFP5.5R13.0B
UK EPDM Rubber Plug for Powder Coating 5.5MM X 13.0MM

5.0

0.196

0.118

0.208

13.0

0.511

0.137

6.5

0.255

15.0

0.590

3.0

0.118

KMFP7.2R15.0B
UK Rubber Washer Masking Plug 7.2MM X 15.0MM

5.0

0.196

0.156

0.283

15.0

0.590

0.156

8.0

0.313

15.0

0.590

3.0

0.118

KMFP8.8R20.0B
UK EPDM Washers 8.8MM X 20.0MM

6.0

0.236

0.177

0.346

20.0

0.787

0.156

12.0

0.472

15.0

0.590

3.0

0.118

KMFP10.6R22.0B
UK Rubber Washer plugs 10.6MM X 22.0MM

6.0

0.236

0.216

0.417

22.0

0.866

0.156

14.0

0.551

15.0

0.590

3.0

0.118
Legend:
- Add to Basket
- View Price
​
Not sure what part you need? Would you like to consider another type or part, or a different material?
Consult MOCAP's
Application Advisor
for assistance.
EPDM Rubber Washer Plugs - Information
MOCAP
EPDM rubber washer plugs fit and protect threaded and non-threaded holes while the flange masks the area around the holes.
Rubber EPDM plugs
are chemical resistant and good up to 300°F (149°C) and can be re-used in many applications.
MOCAP
's line of rubber products includes
silicone
and
EPDM rubber caps and plugs
stocked in many sizes for immediate shipment.