Center Pull Plugs with Wide Flanges
CPW
View Larger Image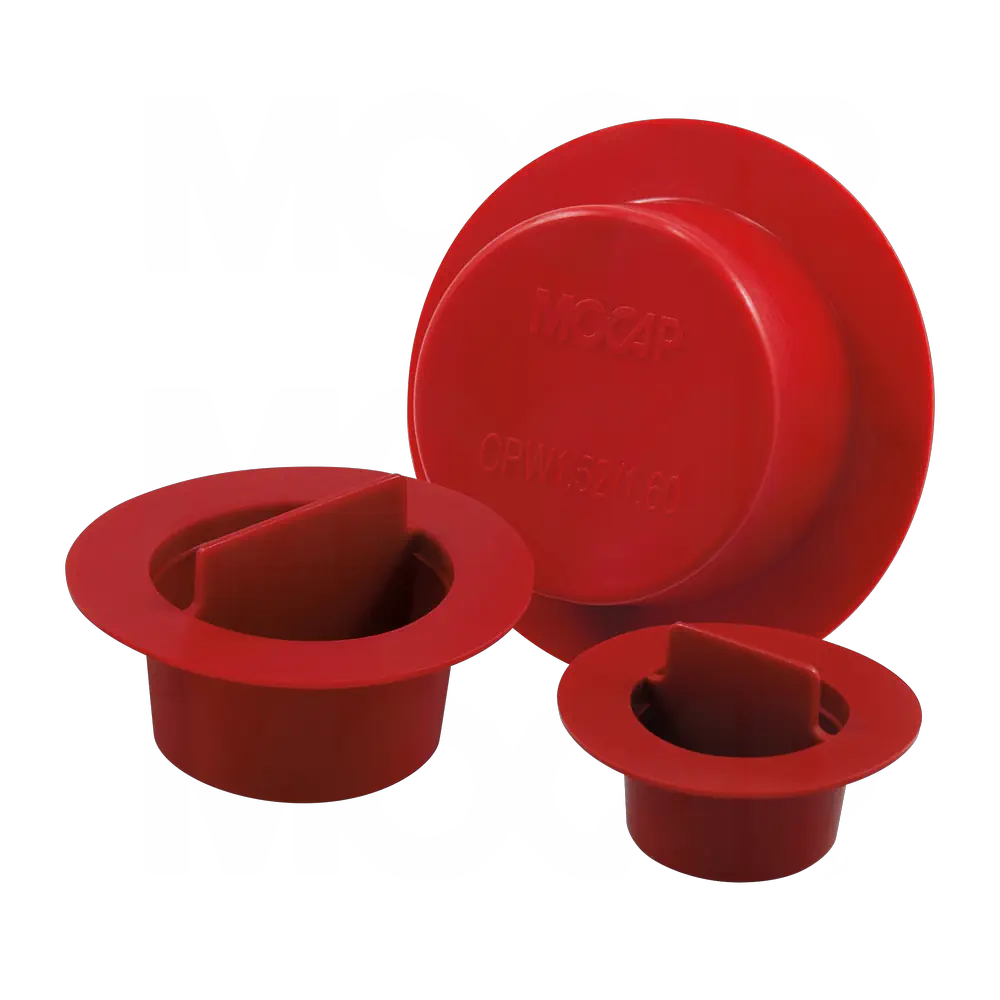 Material: LDPE (Low Density Polyethylene) (Red)
Pull Tab Allows for Quick and Easy Removal
Extra Strong Tab is Moulded into Plug so it Will Not Break Off
Featuring a Wider Flange than the CP Series for Added Protection of External Surfaces
Part #
Description
Small O.D.

Large O.D.

Flange OD

Length

Tab Height

Tab Width


See Prices / Buy Online

CPW.48/.54RD1
Center Pull Plugs with Wide Flanges - CENTER PULL WIDE FLANGE LDPE RED

12.2

0.480

0.540

31.8

1.250

0.530

6.4

0.250

9.5

0.375

CPW.59/.65RD1
Tapered Center Pull Plugs - CENTER PULL WIDE FLANGE LDPE RED

15.0

0.590

0.647

26.9

1.060

0.500

6.4

0.250

9.5

0.375

CPW.73/.79RD1
Plastic Center Pull Plugs with Wide Brim - CENTER PULL WIDE FLANGE LDPE RED

18.5

0.730

0.790

38.1

1.500

0.500

6.4

0.250

15.9

0.625

CPW.75/.85RD1
Wide Flange Center Pull Tab Plugs - CENTER PULL WIDE FLANGE LDPE RED

19.1

0.752

0.849

33.3

1.310

0.500

6.4

0.250

15.9

0.625

CPW.92/1.08RD1
Plastic Center Pull Plugs - CENTER PULL WIDE FLANGE LDPE RED

23.4

0.921

1.075

41.1

1.620

0.750

6.4

0.250

15.9

0.625

CPW.98/1.04RD1
Center Pull Plugs with Wide Flanges - CENTER PULL WIDE FLANGE LDPE RED

24.9

0.980

1.040

47.8

1.880

0.530

6.4

0.250

15.9

0.625

CPW1.07/1.19RD1
Tapered Center Pull Plugs - CENTER PULL WIDE FLANGE LDPE RED

27.2

1.069

1.188

43.9

1.730

0.690

6.4

0.250

25.4

1.000

CPW1.20/1.30RD1
Plastic Center Pull Plugs with Wide Brim - CENTER PULL WIDE FLANGE LDPE RED

30.5

1.202

1.297

47.8

1.880

0.750

6.4

0.250

25.4

1.000

CPW1.23/1.29RD1
Wide Flange Center Pull Tab Plugs - CENTER PULL WIDE FLANGE LDPE RED

31.2

1.230

1.290

50.8

2.000

0.500

6.4

0.250

25.4

1.000

CPW1.46/1.55RD1
Center Pull Plugs with Wide Flanges - CENTER PULL WIDE FLANGE LDPE RED

37.1

1.460

1.550

60.5

2.380

0.750

6.4

0.250

25.4

1.000

CPW1.52/1.60RD1
Tapered Center Pull Plugs - CENTER PULL WIDE FLANGE LDPE RED

38.6

1.519

1.602

57.2

2.250

0.750

6.4

0.250

25.4

1.000

CPW1.81/1.93RD1
Plastic Center Pull Plugs with Wide Brim - CENTER PULL WIDE FLANGE LDPE RED

45.9

1.807

1.932

64.3

2.530

0.750

6.4

0.250

25.4

1.000

CPW1.96/2.05RD1
Wide Flange Center Pull Tab Plugs - CENTER PULL WIDE FLANGE LDPE RED

49.8

1.960

2.050

69.9

2.750

0.750

6.4

0.250

25.4

1.000

CPW2.46/2.55RD1
Plastic Center Pull Plugs - CENTER PULL WIDE FLANGE LDPE RED

62.5

2.460

2.550

82.6

3.250

0.750

6.4

0.250

25.4

1.000

Part #
Description
Small O.D.

Large O.D.

Flange OD

Length

Tab Height

Tab Width


See Prices / Buy Online
Legend:
- Add to Basket
- View Price
​
Not sure what part you need? Would you like to consider another type or part, or a different material?
Consult MOCAP's
Application Advisor
for assistance.
Center Pull Plugs with Wide Flanges - Information
MOCAP
Center Pull Tapered Plastic Plugs with Wide Flanges are similar to our
Center Pull Plugs
, but have a
wider flange
designed to protect greater surface area.
An extra strong tab
is moulded into the bottom and sides of this plastic plug and extends well above the plug flange making it
easy to grasp and remove
.
Center Pull Tab for Easy Removal
Tapered Plastic Plug fits Multiple Size Openings
Many Sizes of Our Center Pull Plugs with Wide Flanges are Stocked for Immediate Shipment.
Most stock sizes are available in Mini-Packs when Smaller Quantities are Needed. To place an order for this product, call 0800 046 7436 or use our
Contact Request Form
to receive information by e-mail.