View Larger Image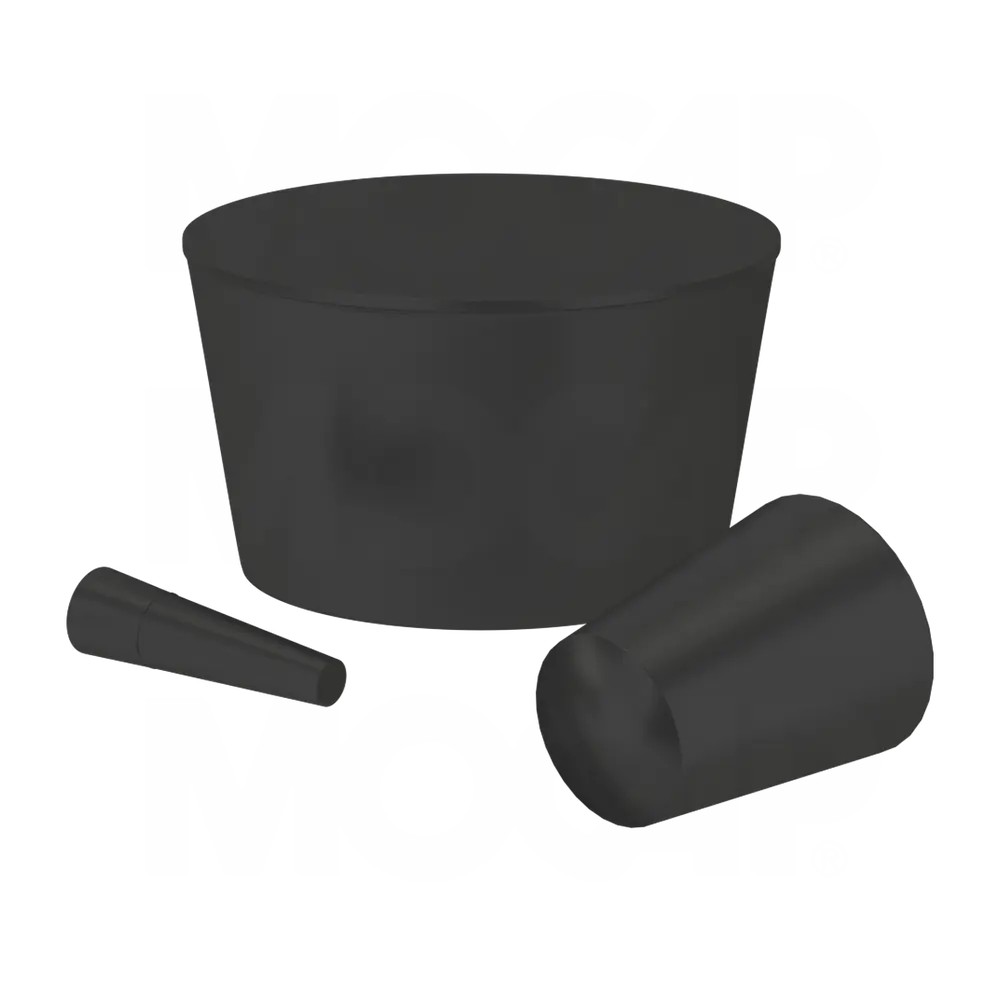 Resists Chemicals and Temps to 149°C (300°F)
Material: EPDM (Ethylene Propylene Diene Monomer)
Tapered Design Allows for Masking of Various Hole Diameters
Part #
Description
Suggested Applications
Small Diameter

Large Diameter

Length


Box

/

Mini

/

Micro


QTY

See Prices / Buy Online

KMRP062/187
UK EPDM Tapered Plugs 1.6MM - 4.7MM
M3 5-40 8-32

0.062

0.187

0.750

2500

500

50

KMRP125/250
UK EPDM Rubber Masking Plug 3.2MM - 6.4MM
M4 M5 10-24 12-48

0.125

0.250

1.000

2500

500

50

KMRP187/343
UK Tapered EPDM Bungs 4.7MM - 8.7MM
M6 M7 M8 3/4 -20 7/16

0.187

0.343

1.000

2500

500

50

KMRP250/437
UK Tapered EPDM Stopper 6.4MM - 11.1MM
M10 3/8 7/16

0.250

0.437

1.000

2500

500

50

KMRP313/562
UK Tapered EPDM Fittings 8.0MM - 14.3MM
M12 M14 1/2 9/16

0.313

0.562

1.125

1000

200

20

KMRP437/687
UK Tapered EPDM Plug 11.1MM - 17.4MM
M16 5/8

0.437

0.687

1.000

1000

200

20

KMRP562/750
UK Rubber Bung Plugs 14.3MM - 19.1MM
M18 3/4

0.562

0.750

1.000

500

100

10

KMRP625/800
UK Rubber Automotive Plugs 15.9MM - 20.3MM
M20 7/8

0.625

0.800

1.000

500

100

10

KMRP750/925
UK Rubber Bung Plugs 19.1MM - 23.5MM
M22 M24 1

0.750

0.925

1.000

500

100

10

KMRP827/1063
UK EPDM Tapered Plugs 21.0MM - 27.0MM

0.827

1.063

1.113

250

50

5

KMRP1036/1246
UK EPDM Rubber Masking Plug 26.3MM - 31.6MM

1.036

1.246

1.000

250

50

5

KMRP1187/1437
UK Tapered EPDM Bungs 30.1MM - 36.5MM

1.187

1.437

1.000

250

50

5

KMRP1306/1622
UK Tapered EPDM Stopper 33.2MM - 41.2MM

1.306

1.622

1.000

250

50

5

KMRP1469/1750
UK Tapered EPDM Fittings 37.3MM - 44.5MM

1.469

1.750

1.000

250

50

5

KMRP1621/1973
UK Tapered EPDM Plug 41.2MM - 50.1MM

1.621

1.973

1.000

250

50

5

KMRP1881/2198
UK Rubber Bung Plugs 47.8MM - 55.1MM

1.881

2.198

1.000

50

10

1

KMRP2000/2469
UK Rubber Automotive Plugs 50.8MM - 62.7MM

2.000

2.469

1.000

50

10

1

KMRP2118/2506
UK Rubber Bung Plugs 53.8MM - 63.7MM

2.118

2.506

1.000

50

10

1

KMRP2272/2697
UK EPDM Tapered Plugs 57.7MM - 68.5MM

2.272

2.697

1.000

50

10

1

KMRP2437/2953
UK EPDM Rubber Masking Plug 61.9MM - 75.0MM

2.437

2.953

1.375

50

10

1

KMRP2750/3500
UK Tapered EPDM Bungs 69.9MM - 88.9MM

2.750

3.500

1.500

50

10

1

KMRP3250/4000
UK Tapered EPDM Stopper 82.6MM - 101.6MM

3.250

4.000

1.500

25

5

1

KMRP3500/5000
UK Tapered EPDM Fittings 88.9MM - 127.0MM

3.500

5.000

2.000

25

5

1

Part #
Description
Suggested Applications
Small Diameter

Large Diameter

Length


Box

/

Mini

/

Micro


QTY

See Prices / Buy Online
Legend:
- Add to Basket
- View Price
​
Micropacks are only available for purchase through our online store.
​
Not sure what part you need? Would you like to consider another type or part, or a different material?
Consult MOCAP's
Application Advisor
for assistance.
EPDM Tapered Plugs - Information
MOCAP Tapered EPDM Rubber Plugs are stocked in dozens of sizes to fit your specific application. EPDM rubber product tapered plugs are chemical resistant and good to 149°C (300°F) and are reusable in many applications. Available in sizes to fit 5-40 standard thread through 5" openings, and M4 through M160 metric threaded holes.

MOCAP
's line of rubber products includes
silicone
and
EPDM rubber caps and plugs
stocked in many sizes for immediate shipment
.