View Larger Image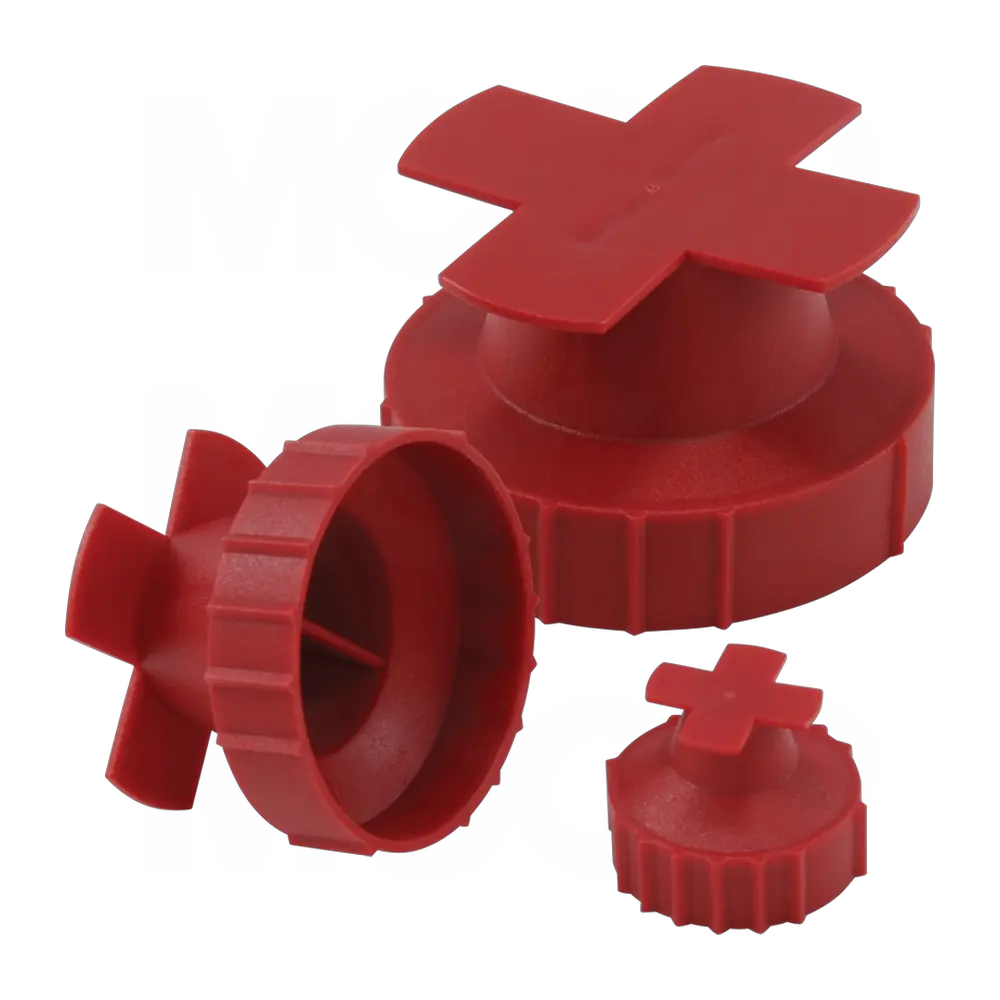 Material: LDPE (Low Density Polyethylene) (Red)
Designed for Maximum Flexibility to Fit Many Different Thread Types and Sizes with a Simple Push-In and Turn to Lock-In-Place
Part #
Description
To Fit BSP
To Fit NPT
To Fit UNF
To Fit UN
To Fit METRIC Thread
Length

Bevel Length

Stem Diameter


Box

/

Mini

/

Micro


QTY

See Prices / Buy Online

U100RD1
Universal Thread Plugs - UNIVERSAL THREAD PLUG, LDPE RED
1/8"
1/8"
7/16"
M10

0.530

6.6

0.260

11.0

0.434

5000

1000

100

U105RD1
Plastic Plugs for Universal Threads - UNIVERSAL THREAD PLUG, LDPE RED
1/4"
1/2"
M11, M12

0.560

7.1

0.280

12.8

0.504

5000

1000

100

U110RD1
Plastic Plug Caps for Universal Threads - UNIVERSAL THREAD PLUG, LDPE RED
1/4"
1/4"
9/16"
M14

0.590

7.9

0.310

14.4

0.568

5000

1000

100

U115RD1
Plastic Bolt for Universal Threads (Polyethylene) - UNIVERSAL THREAD PLUG, LDPE RED
3/8"
3/4"
M16, M18, M20

0.670

9.9

0.390

19.7

0.774

5000

1000

100

U120RD1
Polyethylene Plugs for Universal Threads - UNIVERSAL THREAD PLUG, LDPE RED
1/2", 5/8"
1"
M22, M24, M25

0.740

11.7

0.460

24.8

0.976

3000

600

60

U125RD1
Universal Thread Plugs - UNIVERSAL THREAD PLUG, LDPE RED
3/4", 7/8"
3/4"
1-3/16"
M30

0.910

14.2

0.560

30.9

1.216

2500

500

50

U130RD1
Plastic Plugs for Universal Threads - UNIVERSAL THREAD PLUG, LDPE RED
7/8", 1"
1-7/16"
M36

0.980

14.2

0.560

37.6

1.480

2500

500

50

Part #
Description
To Fit BSP
To Fit NPT
To Fit UNF
To Fit UN
To Fit METRIC Thread
Length

Bevel Length

Stem Diameter


Box

/

Mini

/

Micro


QTY

See Prices / Buy Online
Legend:
- Add to Basket
- View Price
Micropacks are only available for purchase through our online store.
Not sure what part you need? Would you like to consider another type or part, or a different material?
Consult MOCAP's
Application Advisor
for assistance.
Universal Thread Plugs - Information
MOCAP Universal Thread Plugs are designed to fit many different thread types and sizes, allowing for maximum flexibility. These Plastic Plugs are easy to install. Simply push the plug into the female threaded port and apply a small turn to lock it in place.

Protects threaded components and fittings from moisture, dust and damage during production, shipping and storage.
Our U Series Plugs are moulded in
Red
polyethylene plastic
and sized to fit 1/8 and 1/4 NPT
or
7/16 thru 1-7/16 UN
or
1/8 thru 7/8 BSP
or
M10 thru M36 Threads.
Many Sizes of Our Universal Thread Plugs are Stocked for Immediate Shipment.
Most stock sizes are available in Mini-Packs when Smaller Quantities are Needed. To place an order for this product, call 0800 046 7436 or use our
Contact Request Form
to receive information by e-mail.