Sealing Plugs for BSP Threads
SPB
View Larger Image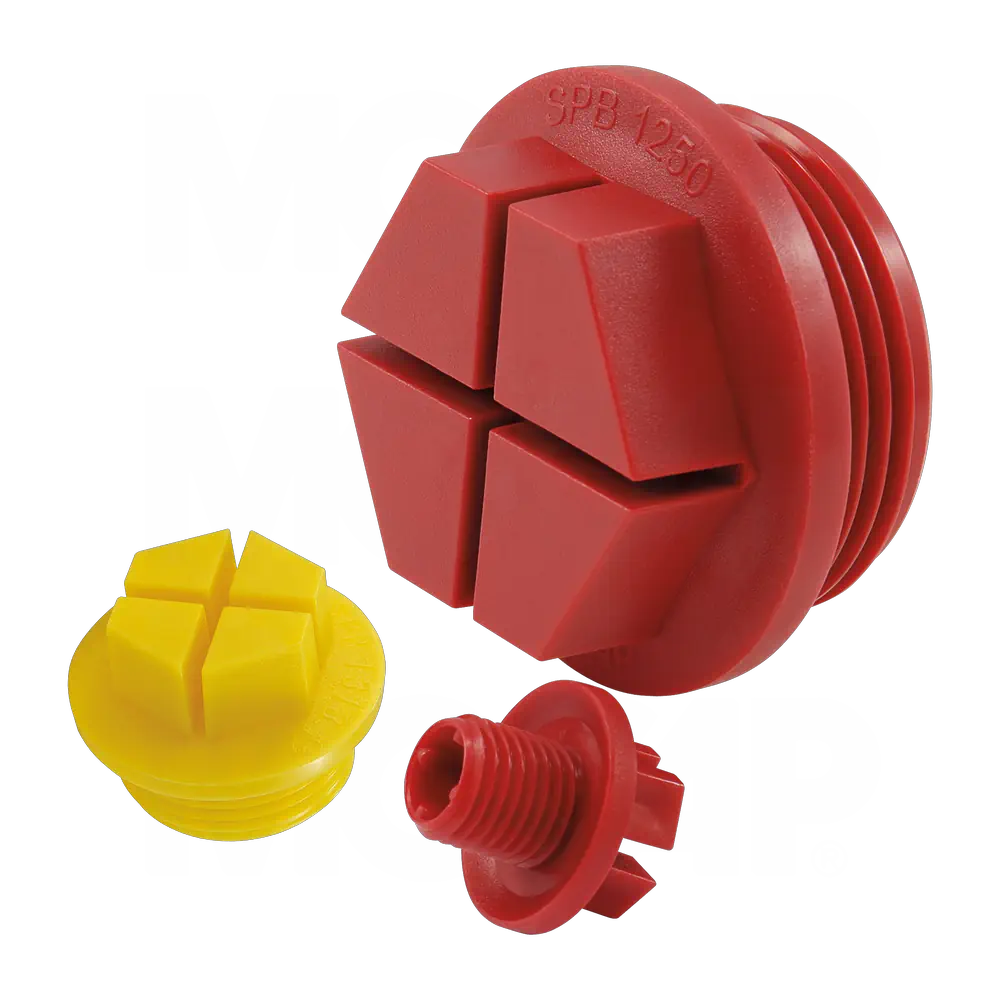 Material: PP (Polypropylene), Nylon
Stocked Material: PP (Red), NYLON (Yellow)
Designed with Five Complete Threads Plus an Integrated Sealing Lip for a Tight Fit
Also Available with a Factory Fit Neoprene O-Ring when a Secure Seal is Required
Part #
Description
To Fit BSP
Flange OD

Stem Height

O-Ring

Box

/

Mini

/

Micro


QTY

See Prices / Buy Online

SPB0250
Sealing Plugs for BSP Threads - SEALING PLUG FOR BSP 1/4 THRDS
G1/4

19.3

0.760

9.9

0.390

5000

1000

100

SPB0250NO
Polypropylene or Nylon BSP Sealing Plugs - SEALING PLUG FOR BSP 1/4 THRDS BASE KIT
G1/4

19.3

0.760

9.9

0.390

✓

5000

1000

100

SPB0375
Plastic BSP Sealing Plug Caps - SEALING PLUG FOR BSP 3/8 THRDS
G3/8

22.1

0.870

10.9

0.430

5000

1000

100

SPB0375NO
Plastic Bolt for BSP Threads - SEALING PLUG FOR BSP 3/8 THRDS BASE KIT
G3/8

22.1

0.870

10.9

0.430

✓

5000

1000

100

SPB0500
BSP Sealing Plugs with Slotted Hex Head - SEALING PLUG FOR BSP 1/2 THRDS
G1/2

27.2

1.070

12.9

0.510

3000

600

60

SPB0500NO
Sealing Plugs for BSP Threads - SEALING PLUG FOR BSP 1/2 THRDS BASE KIT
G1/2

27.2

1.070

12.9

0.510

✓

3000

600

60

SPB0750
Polypropylene or Nylon BSP Sealing Plugs - SEALING PLUG FOR BSP 3/4 THRDS
G3/4

32.3

1.270

12.9

0.510

2000

400

40

SPB0750NO
Plastic BSP Sealing Plug Caps - SEALING PLUG FOR BSP 3/4 THRDS BASE KIT
G3/4

32.3

1.270

12.9

0.510

✓

2000

400

40

SPB1000
Plastic Bolt for BSP Threads - SEALING PLUG FOR BSP 1 THRDS
G1

39.9

1.570

14.0

0.550

1000

200

20

SPB1000NO
Sealing Plugs for BSP Threads - SEALING PLUG FOR BSP 1 THRDS BASE KIT
G1

39.9

1.570

14.0

0.550

✓

1000

200

20

SPB1250
Polypropylene or Nylon BSP Sealing Plugs - SEALING PLUG FOR BSP 1-1/4 THRDS
G1-1/4

50.3

1.980

15.0

0.590

1000

200

20

SPB1250NO
Plastic BSP Sealing Plug Caps - SEALING PLUG FOR BSP 1-1/4 THRDS BASE KIT
G1-1/4

50.3

1.980

15.0

0.590

✓

1000

200

20

SPB1500
Plastic Bolt for BSP Threads - SEALING PLUG FOR BSP 1-1/2 THRDS
G1-1/2

55.4

2.180

15.0

0.590

250

50

5

SPB1500NO
BSP Sealing Plugs with Slotted Hex Head - SEALING PLUG FOR BSP 1-1/2 THRDS BASE KIT
G1-1/2

55.4

2.180

15.0

0.590

✓

250

50

5

SPB2000
Sealing Plugs for BSP Threads - SEALING PLUG FOR BSP 2 THRDS
G2

68.3

2.690

15.0

0.590

200

40

4

SPB2000NO
Polypropylene or Nylon BSP Sealing Plugs - SEALING PLUG FOR BSP 2 THRDS BASE KIT
G2

68.3

2.690

15.0

0.590

✓

200

40

4

Part #
Description
To Fit BSP
Flange OD

Stem Height

O-Ring

Box

/

Mini

/

Micro


QTY

See Prices / Buy Online
Legend:
- Add to Basket
- View Price
Micropacks are only available for purchase through our online store.
Not sure what part you need? Would you like to consider another type or part, or a different material?
Consult MOCAP's
Application Advisor
for assistance.
Sealing Plugs for BSP Threads - Information
MOCAP Sealing Plugs for BSP Threads are designed to protect British Standard Pipe Fittings from moisture, dust and damage during production, shipping and storage. Five complete threads plus a sealing lip provide a tight fit and secure seal. Can be applied and removed by hand, with a socket wrench, screwdriver or power tool.

Our SPB Series Plugs are:
Moulded in Red Polypropylene (Standard applications) or
Yellow Nylon (offers high resistance against hydraulic fluids, solvents, acids and base alkalines)
Sized to fit BSP Threads from 1/4 thru 2.
These Sealing Plugs are also available with a factory-fit Neoprene Rubber O-Ring when a perfect seal is required.


MOCAP
stocks
Sealing Plugs for BSP Threads
in both
Red Polypropylene
and
Yellow Nylon
materials in many sizes for immediate shipment.
Most stock sizes are available in Mini-Packs when Smaller Quantities are Needed. To place an order for this product, call 0800 046 7436 or use our
Contact Request Form
to receive information by e-mail.