View Larger Image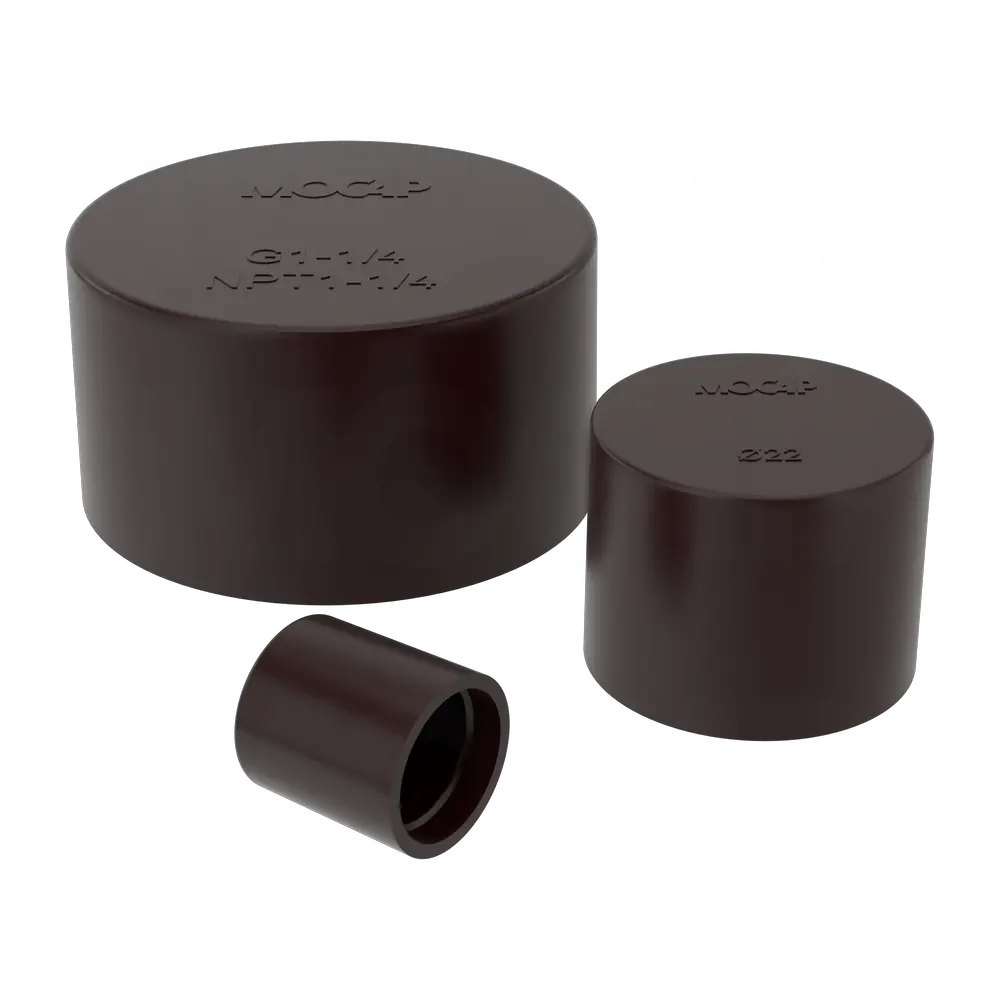 Material: LDPE (Low Density Polyethylene)
Stocked Material: LDPE (Black)
Designed to Protect Metric, BSP and NPT Male Pipe Threads from Damage and Debris
Part #
Description
To Fit Pipe OD

To Fit BSP
To Fit NPT
Inside Length


Box

/

Mini

/

Micro


QTY

See Prices / Buy Online

PC100
Pipe Caps - Pipe Cap - OD: 0.315" (8mm) - LDPE

8.0

0.315

0.445

7000

1400

140

PC100A
Black Plastic Pipe Caps - PIPE CAP FOR 9.7 MM OD OR G 1/8" BSP THREADS

9.7

0.382

G1/8

0.492

7008

1400

140

PC100B
Polyethylene Plastic Pipe Caps - PIPE CAP FOR 10.3 MM OD OR 1/8" NPT THREADS

10.3

0.406

0.125

0.433

7008

1400

140

PC102
Plastic Cap for Threaded Pipe - Pipe Cap - OD: 0.406" (10.3mm) G1/8 BSP - LDPE

10.3

0.406

0.490

7000

1400

140

PC103
Caps for Nominal Pipe - Pipe Cap - OD: 0.472" (12mm) - LDPE

12.0

0.472

0.539

7000

1400

140

PC104
Plastic tube ends - Pipe Cap - OD: 0.500" (12.7mm) - LDPE

12.7

0.500

0.569

7000

1400

140

PC104A
Plastic Pipe End Caps - PIPE CAP FOR 13.2 MM OD OR G 1/4" BSP THREADS

13.2

0.520

G1/4

0.626

7008

1400

140

PC104B
Black Polyethylene Plastic Pipe Caps - PIPE CAP FOR 13.7 MM OD OR 1/4" NPT THREADS

13.7

0.539

0.25

0.571

7008

1400

140

PC105
Plastic Pipe Caps - Pipe Cap - OD: 0.539" (13.7mm) G1/4 BSP, 1/4 NPT - LDPE

13.7

0.539

0.626

7000

1400

140

PC107
Pipe Caps - Pipe Cap - OD: 0.591" (15mm) - LDPE

15.0

0.591

0.596

4000

800

80

PC108
Black Plastic Pipe Caps - Pipe Cap - OD: 0.630" (16mm) - LDPE

16.0

0.630

0.648

4000

800

80

PC108A
Polyethylene Plastic Pipe Caps - PIPE CAP FOR 16.7 MM OD OR G 3/8" BSP THREADS

16.7

0.657

G3/8

0.693

4000

800

80

PC108B
Plastic Cap for Threaded Pipe - PIPE CAP FOR 17.1 MM OD OR 3/8" NPT THREADS

17.1

0.673

0.375

0.571

4000

800

80

PC109
Caps for Nominal Pipe - Pipe Cap - OD: 0.673" (17.1mm) G3/8 BSP, 3/8 NPT - LDPE

17.1

0.673

0.693

4000

800

80

PC110
Plastic tube ends - Pipe Cap - OD: 0.709" (18mm) - LDPE

18.0

0.709

0.701

4000

800

80

PC112
Plastic Pipe End Caps - Pipe Cap - OD: 0.787" (20mm) - LDPE

20.0

0.787

0.691

5000

1000

100

PC112A
Black Polyethylene Plastic Pipe Caps - PIPE CAP FOR 21 MM OD OR G 1/2" BSP THREADS

21.0

0.827

G1/2

0.677

5008

1000

100

PC112B
Plastic Pipe Caps - PIPE CAP FOR 21.2 MM OD OR 1/2" NPT THREADS

21.2

0.835

0.5

0.689

5008

1000

100

PC114
Pipe Caps - Pipe Cap - OD: 0.839" (21.3mm) G1/2 BSP, 1/2 NPT - LDPE

21.3

0.839

0.677

5000

1000

100

PC115
Black Plastic Pipe Caps - Pipe Cap - OD: 0.866" (22mm) - LDPE

22.0

0.866

0.709

5000

1000

100

PC116
Polyethylene Plastic Pipe Caps - Pipe Cap - OD: 1.000" (25.4mm) - LDPE

25.4

1.000

0.667

5000

1000

100

PC116A
Plastic Cap for Threaded Pipe - PIPE CAP FOR 26.6 MM OD, G 3/4" BSP OR 3/4" NPT THREADS

26.6

1.047

G3/4
0.75

0.693

4000

800

80

PC117
Caps for Nominal Pipe - Pipe Cap - OD: 1.051" (26.7mm) G3/4 BSP, 3/4 NPT - LDPE

26.7

1.051

0.695

4000

800

80

PC118
Plastic tube ends - Pipe Cap - OD: 1.102" (28mm) - LDPE

28.0

1.102

0.709

4000

800

80

PC119
Plastic Pipe End Caps - Pipe Cap - OD: 1.181" (30mm) - LDPE

30.0

1.181

0.656

4000

800

80

PC120
Black Polyethylene Plastic Pipe Caps - Pipe Cap - OD: 1.252" (31.8mm) - LDPE

31.8

1.252

0.793

4000

800

80

PC120A
Plastic Pipe Caps - PIPE CAP FOR 33.2 MM OD, G 1" BSP OR 1" NPT THREADS

33.2

1.307

G1
1

0.827

4512

900

90

PC121
Pipe Caps - Pipe Cap - OD: 1.315" (33.4mm) G1 BSP, 1 NPT - LDPE

33.4

1.315

0.827

4500

900

90

PC123
Black Plastic Pipe Caps - Pipe Cap - OD: 1.378" (35mm) - LDPE

35.0

1.378

0.886

2500

500

50

PC123A
Polyethylene Plastic Pipe Caps - PIPE CAP FOR 37.9 MM OD OR G 1-1/8" BSP THREADS

37.9

1.492

G1-1/8

0.866

2512

500

50

PC124
Plastic Cap for Threaded Pipe - Pipe Cap - OD: 1.500" (38.1mm) G1-1/8 BSP - LDPE

38.1

1.500

0.868

2500

500

50

PC125
Caps for Nominal Pipe - Pipe Cap - OD: 1.575" (40mm) - LDPE

40.0

1.575

0.768

2500

500

50

PC125A
Plastic tube ends - PIPE CAP FOR 42 MM OD, G 1-1/4" BSP OR 1-1/4" NPT THREADS

42.0

1.654

G1-1/4
1-1/4

0.874

2512

500

50

PC126
Plastic Pipe End Caps - Pipe Cap - OD: 1.654" (42mm) G1-1/4 BSP, 1-1/4 NPT - LDPE

42.0

1.654

0.874

2500

500

50

PC126A
Black Polyethylene Plastic Pipe Caps - PIPE CAP FOR 44.3 MM OD OR G 1-3/8" BSP THREADS

44.3

1.744

G1-3/8

0.807

2512

500

50

PC127
Plastic Pipe Caps - Pipe Cap - OD: 1.772" (45mm) G1-3/8 BSP - LDPE

45.0

1.772

0.805

2500

500

50

PC127A
Pipe Caps - PIPE CAP FOR 47.8 MM OD OR G 1-1/2" BSP THREADS

47.8

1.882

G1-1/2

0.890

2000

400

40

PC127B
Black Plastic Pipe Caps - PIPE CAP FOR 48.1 MM OD OR 1-1/2" NPT THREADS

48.1

1.894

1-1/2

0.890

2000

400

40

PC128
Polyethylene Plastic Pipe Caps - Pipe Cap - OD: 1.902" (48.3mm) G1-1/2 BSP, 1-1/2 NPT - LDPE

48.3

1.902

0.890

2000

400

40

PC129
Plastic Cap for Threaded Pipe - Pipe Cap - OD: 1.969" (50mm) - LDPE

50.0

1.969

1.008

1200

240

24

PC130
Caps for Nominal Pipe - Pipe Cap - OD: 2.000" (50.8mm) - LDPE

50.8

2.000

0.892

1200

240

24

PC130A
Plastic tube ends - PIPE CAP FOR 53.8 MM OD OR G 1-3/4" BSP THREADS

53.8

2.118

G1-3/4

0.894

1200

240

24

PC133
Plastic Pipe End Caps - Pipe Cap - OD: 2.126" (54mm) G1-3/4 BSP - LDPE

54.0

2.126

0.894

1200

240

24

PC134
Black Polyethylene Plastic Pipe Caps - Pipe Cap - OD: 2.244" (57mm) - LDPE

57.0

2.244

0.906

1200

240

24

PC134A
Plastic Pipe Caps - PIPE CAP FOR 59.6 MM OD OR G 2" BSP THREADS

59.6

2.346

G2

0.965

1200

240

24

PC134B
Pipe Caps - PIPE CAP FOR 60.1 MM OD OR 2" NPT THREADS

60.1

2.366

2

0.965

1200

240

24

PC135
Black Plastic Pipe Caps - Pipe Cap - OD: 2.374" (60.3mm) G2 BSP, 2 NPT - LDPE

60.3

2.374

0.967

1200

240

24

PC137
Polyethylene Plastic Pipe Caps - Pipe Cap - OD: 2.500" (63.5mm) - LDPE

63.5

2.500

0.941

500

100

10

PC139
Plastic Cap for Threaded Pipe - Pipe Cap - OD: 2.756" (70mm) - LDPE

70.0

2.756

1.047

500

100

10

PC140
Caps for Nominal Pipe - Pipe Cap - OD: 2.874" (73mm) 2-1/2 NPT - LDPE

73.0

2.874

2-1/2

1.041

500

100

10

PC141
Plastic tube ends - Pipe Cap - OD: 3.004" (76.3mm) G2-1/2 BSP - LDPE

76.3

3.004

G2-1/2

0.992

400

80

8

PC142
Plastic Pipe End Caps - Pipe Cap - OD: 3.228" (82mm) G2-3/4 BSP - LDPE

82.0

3.228

G2-3/4

1.087

400

80

8

PC143
Black Polyethylene Plastic Pipe Caps - Pipe Cap - OD: 3.346" (85mm) - LDPE

85.0

3.346

0.907

400

80

8

PC144
Plastic Pipe Caps - Pipe Cap - OD: 3.500" (88.9mm) G3 BSP, 3 NPT - LDPE

88.9

3.500

G3
3

1.063

400

80

8

PC146
Pipe Caps - Pipe Cap - OD: 3.740" (95mm) - LDPE

95.0

3.740

0.969

300

60

6

PC147
Black Plastic Pipe Caps - Pipe Cap - OD: 4.000" (101.6mm) 3-1/2 NPT - LDPE

101.6

4.000

3-1/2

1.063

300

60

6

PC149
Polyethylene Plastic Pipe Caps - Pipe Cap - OD: 4.252" (108mm) - LDPE

108.0

4.252

1.156

225

45

5

PC150
Plastic Cap for Threaded Pipe - Pipe Cap - OD: 4.488" (114mm) G4 BSP, 4 NPT - LDPE

114.0

4.488

G4
4

1.035

225

45

5

PC151
Caps for Nominal Pipe - Pipe Cap - OD: 4.764" (121mm) - LDPE

121.0

4.764

1.071

120

24

3

PC152
Plastic tube ends - Pipe Cap - OD: 5.000" (127mm) G4-1/2 BSP - LDPE

127.0

5.000

G4-1/2

1.085

120

24

3

PC153
Plastic Pipe End Caps - Pipe Cap - OD: 5.079" (129mm) - LDPE

129.0

5.079

1.035

120

24

3

PC154
Black Polyethylene Plastic Pipe Caps - Pipe Cap - OD: 5.236" (133mm) - LDPE

133.0

5.236

1.073

120

24

3

PC155
Plastic Pipe Caps - Pipe Cap - OD: 5.500" (139.7mm) G5 BSP, 5 NPT - LDPE

139.7

5.500

G5
5

1.035

120

24

3

PC157
Pipe Caps - Pipe Cap - OD: 5.984" (152mm) G5-1/2 BSP - LDPE

152.0

5.984

G5-1/2

1.069

80

16

2

PC159
Black Plastic Pipe Caps - Pipe Cap - OD: 6.260" (159mm) - LDPE

159.0

6.260

1.116

80

16

2

PC161
Polyethylene Plastic Pipe Caps - Pipe Cap - OD: 6.626" (168.3mm) G6 BSP, 6 NPT - LDPE

168.3

6.626

G6
6

1.205

80

16

2

PC167
Plastic Cap for Threaded Pipe - Pipe Cap - OD: 8.622" (219mm) G8 BSP, 8 NPT - LDPE

219.0

8.622

G8
8

1.276

80

16

2

PC173
Caps for Nominal Pipe - Pipe Cap - OD: 10.748" (273mm) G10 BSP, 10 NPT - LDPE

273.0

10.748

G10
10

1.350

40

8

1

PC178
Plastic tube ends - Pipe Cap - OD: 12.752" (323.9mm) G12 BSP, 12 NPT - LDPE

323.9

12.752

G12
12

1.825

25

5

1

PC182
Plastic Pipe End Caps - Pipe Cap - OD: 14.000" (355.6mm) G14 BSP, 14 NPT - LDPE

355.6

14.000

G14
14

1.850

20

4

1

PC186
Black Polyethylene Plastic Pipe Caps - Pipe Cap - OD: 16.000" (406.4mm) G16 BSP, 16 NPT - LDPE

406.4

16.000

G16
16

2.071

30

6

1

PC188
Plastic Pipe Caps - Pipe Cap - OD: 18.000" (457.2mm) G18 BSP, 18 NPT - LDPE

457.2

18.000

G18
18

1.929

20

4

1

PC190
Pipe Caps - Pipe Cap - OD: 20.000" (508mm) G20 BSP, 20 NPT - LDPE

508.0

20.000

G20
20

2.008

20

4

1

PC192
Black Plastic Pipe Caps - Pipe Cap - OD: 21.969" (558mm) G22 BSP, 22 NPT - LDPE

558.0

21.969

G22
22

2.087

15

3

1

PC193
Polyethylene Plastic Pipe Caps - Pipe Cap - OD: 24.016" (610mm) G24 BSP, 24 NPT - LDPE

610.0

24.016

G24
24

2.165

15

3

1

PC195
Plastic Cap for Threaded Pipe - PIPE CAP FOR 660.4 MM OD, G 26" BSP OR 26" NPT THREADS

660.4

26.000

G26
26

2.421

12

2

1

PC196
Caps for Nominal Pipe - PIPE CAP FOR 711.2 MM OD, G 28" BSP OR 28" NPT THREADS

711.2

28.000

G28
28

2.480

12

2

1

PC197
Plastic tube ends - PIPE CAP FOR 762 MM OD, G 30" BSP OR 30" NPT THREADS

762.0

30.000

G30
30

2.953

12

2

1

PC198
Plastic Pipe End Caps - Pipe Cap - OD: 32.000" (812.8mm) G32 BSP, 32 NPT - LDPE

812.8

32.000

G32
32

3.004

12

2

1

PC200
Black Polyethylene Plastic Pipe Caps - Pipe Cap - OD: 36.000" (914.4mm) G36 BSP, 36 NPT - LDPE

914.4

36.000

G36
36

3.189

12

2

1

PC201
Plastic Pipe Caps - Pipe Cap - OD: 40.000" (1016mm) G40 BSP, 40 NPT - LDPE

1,016.0

40.000

G40
40

3.622

10

2

1

Part #
Description
To Fit Pipe OD

To Fit BSP
To Fit NPT
Inside Length


Box

/

Mini

/

Micro


QTY

See Prices / Buy Online
Legend:
- Add to Basket
- View Price
Micropacks are only available for purchase through our online store.
Not sure what part you need? Would you like to consider another type or part, or a different material?
Consult MOCAP's
Application Advisor
for assistance.
Pipe Caps - Information
MOCAP Pipe Caps are designed to fit many different styles and sizes of threaded pipe ends, allowing for maximum flexibility. Designed to secure Metric, BSP and NPT threads from damage and contamination during transit, handling and storage, our PC series Pipe Caps are easy to install and remove.

Our PC Series Caps are moulded in
Black
polyethylene plastic
and sized to fit 1/4 thru 16 NPT
or
1/8 thru 16 BSP
or
8mm thru 406.4mm Threads.
Pipe Cap sizes to fit 18 thru 40 NPT
or
18 thru 40 BSP
or
457.2mm thru 1016mm threads are also available, but
not
as stock items.
Many Sizes of Our Pipe Caps are Stocked for Immediate Shipment.
Most stock sizes are available in Mini-Packs when Smaller Quantities are Needed. To place an order for this product, call 0800 046 7436 or use our
Contact Request Form
to receive information by e-mail.