Barrel Plugs with Flanges
BPF
View Larger Image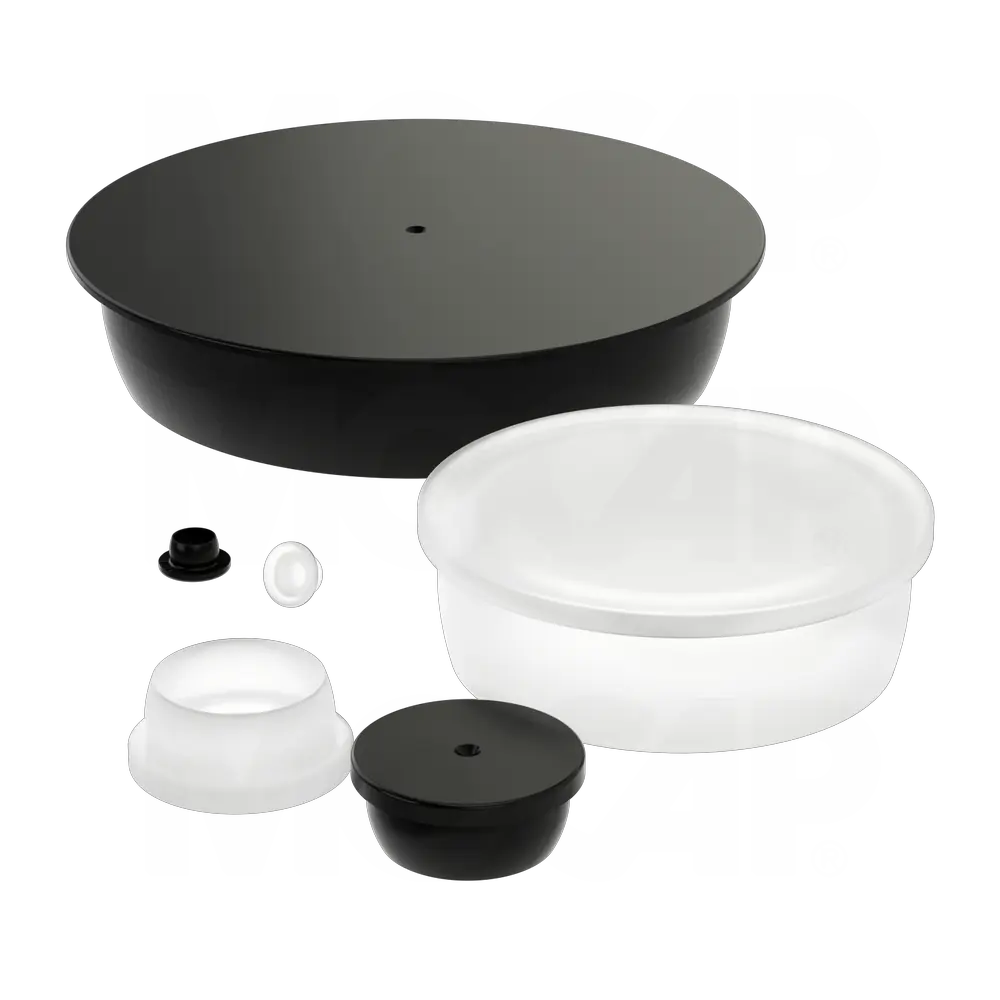 Material: LDPE (Low Density Polyethylene)
Stocked Material: LDPE (Black), LDPE (Natural)
General Purpose Plug Designed to Protect Threads, Ports or Fittings from Damage, Debris and Contaminants.
Flanged for Easy Removal
Part #
Description
To Fit STD Thread
To Fit NPT
Metric
Regular
threads
Metric Fine Threads
To Fit BSP
Large Diameter

Overall Length

Flange OD

Length


Box

/

Mini

/

Micro


QTY

See Prices / Buy Online

BPF30
Barrel Plugs with Flanges - BARREL PLUG FLANGED LDPE
1/4 - 20

0.217

0.153

8.0

0.315

0.114

5000

1000

100

BPF40
General Purpose Plugs - BARREL PLUG FLANGED LDPE
5/16 - 24
1/16
M8
M8x1
1/16

0.288

0.315

14.0

0.551

0.236

5000

1000

100

BPF50
Flanged Barrel Plugs - BARREL PLUG FLANGED LDPE
M9x1

0.335

0.315

14.0

0.551

0.236

5000

1000

100

BPF60
Plastic Barrel Plugs - BARREL PLUG FLANGED LDPE
3/8 - 24
M10

0.343

0.256

14.0

0.551

0.177

5000

1000

100

BPF70
Barrel Plugs with Flanges - BARREL PLUG FLANGED LDPE
3/8 - 24
1/8
M10

0.345

0.315

18.0

0.709

0.236

5000

1000

100

BPF80
Barrel Plugs with Flanges - BARREL PLUG FLANGED LDPE
3/8 - 24
1/8
M10
M9.5x1
1/8

0.350

0.374

13.0

0.512

0.295

5000

1000

100

BPF90
General Purpose Plugs - BARREL PLUG FLANGED LDPE
1/8
M10x1
1/8

0.366

0.256

14.0

0.551

0.177

5000

1000

100

BPF100
Flanged Barrel Plugs - BARREL PLUG FLANGED LDPE
M10x1

0.374

0.256

14.0

0.551

0.177

5000

1000

100

BPF110
Plastic Barrel Plugs - BARREL PLUG FLANGED LDPE
7/16 - 20
M12
M11x1

0.408

0.295

13.0

0.512

0.217

5000

1000

100

BPF120
Barrel Plugs with Flanges - BARREL PLUG FLANGED LDPE
M12
M12x1.5

0.424

0.295

14.0

0.551

0.217

5000

1000

100

BPF130
General Purpose Plugs - BARREL PLUG FLANGED LDPE
1/2 - 20
1/4
M12x1, M12x1.25, M13x1.5
1/4

0.464

0.354

16.0

0.630

0.276

5000

1000

100

BPF140
Flanged Barrel Plugs - BARREL PLUG FLANGED LDPE
M14
M13x1
1/4

0.487

0.354

16.0

0.630

0.276

5000

1000

100

BPF150
Plastic Barrel Plugs - BARREL PLUG FLANGED LDPE
9/16 - 18
M13.5x1, M14x1.5

0.515

0.354

16.0

0.630

0.276

5000

1000

100

BPF160
Barrel Plugs with Flanges - BARREL PLUG FLANGED LDPE
9/16 - 18
M15x1.5

0.544

0.394

20.0

0.787

0.315

5000

1000

100

BPF170
Barrel Plugs with Flanges - BARREL PLUG FLANGED LDPE
5/8 - 18
M16
M15x1, M16x1.5

0.579

0.295

20.0

0.787

0.217

5000

1000

100

BPF190
General Purpose Plugs - BARREL PLUG FLANGED LDPE
5/8 - 18
3/8
M16x1.5

0.595

0.295

20.0

0.787

0.217

5000

1000

100

BPF180
Flanged Barrel Plugs - BARREL PLUG FLANGED LDPE
5/8 - 18
3/8
M16x1.5

0.595

0.394

20.0

0.787

0.315

5000

1000

100

BPF200
Plastic Barrel Plugs - BARREL PLUG FLANGED LDPE
M18
M16x1
3/8

0.618

0.394

20.0

0.787

0.315

5000

1000

100

BPF220
Barrel Plugs with Flanges - BARREL PLUG FLANGED LDPE
M17x1, M18x1.5, M18x2.5

0.653

0.295

20.0

0.787

0.217

5000

1000

100

BPF210
General Purpose Plugs - BARREL PLUG FLANGED LDPE
M17x1, M18x1.5, M18x2.5

0.654

0.295

22.0

0.866

0.217

5000

1000

100

BPF230
Flanged Barrel Plugs - BARREL PLUG FLANGED LDPE
M18x1.5, M18x2.5

0.662

0.295

22.0

0.866

0.217

5000

1000

100

BPF240
Plastic Barrel Plugs - BARREL PLUG FLANGED LDPE
M18x1.5

0.677

0.413

22.0

0.866

0.315

5000

1000

100

BPF241
Barrel Plugs with Flanges - BARREL PLUG FLANGED LDPE
3/4 - 16

0.707

0.413

25.0

0.984

0.315

5000

1000

100

BPF250
Barrel Plugs with Flanges - BARREL PLUG FLANGED LDPE
3/4 - 16
1/2
M19x1, M20x2

0.729

0.413

25.0

0.984

0.315

5000

1000

100

BPF251
General Purpose Plugs - BARREL PLUG FLANGED LDPE
1/2
M20x1.5
1/2

0.737

0.413

25.0

0.984

0.315

5000

1000

100

BPF260
Flanged Barrel Plugs - BARREL PLUG FLANGED LDPE
M20X1, M21X2
1/2

0.765

0.425

25.0

0.984

0.315

5000

1000

100

BPF270
Plastic Barrel Plugs - BARREL PLUG FLANGED LDPE
M22
M21x1.5

0.776

0.413

25.0

0.984

0.315

5000

1000

100

BPF280
Barrel Plugs with Flanges - BARREL PLUG FLANGED LDPE
M21x1.5

0.819

0.413

25.0

0.984

0.315

5000

1000

100

BPF290
General Purpose Plugs - BARREL PLUG FLANGED LDPE
7/8 - 16
M24
M22x1, M22x1.5
5/8

0.838

0.394

25.0

0.984

0.315

5000

1000

100

BPF300
Flanged Barrel Plugs - BARREL PLUG FLANGED LDPE
7/8 - 16
M24
M22x1, M23x2

0.846

0.374

25.0

0.984

0.295

5000

1000

100

BPF310
Plastic Barrel Plugs - BARREL PLUG FLANGED LDPE
M22x1

0.858

0.413

25.0

0.984

0.315

5000

1000

100

BPF320
Barrel Plugs with Flanges - BARREL PLUG FLANGED LDPE
M23x1, M24x2

0.886

0.472

28.0

1.102

0.354

5000

1000

100

BPF330
Barrel Plugs with Flanges - BARREL PLUG FLANGED LDPE
1 - 14
M24x1, M25x1.5, M25x2

0.933

0.472

28.0

1.102

0.354

5000

1000

100

BPF340
General Purpose Plugs - BARREL PLUG FLANGED LDPE
1 - 14
M25
M25x1.5

0.948

0.472

28.0

1.102

0.354

2500

500

50

BPF350
Flanged Barrel Plugs - BARREL PLUG FLANGED LDPE
3/4
M27
M25x1, M26x2

0.967

0.433

27.0

1.063

0.335

2500

500

50

BPF360
Plastic Barrel Plugs - BARREL PLUG FLANGED LDPE
3/4
M25x1, M26x1.5, M26x2
3/4

0.971

0.472

28.0

1.102

0.354

2500

500

50

BPF370
Barrel Plugs with Flanges - BARREL PLUG FLANGED LDPE
1-1/16 - 12
M26x1 M27x2

1.007

0.374

28.0

1.102

0.295

2500

500

50

BPF380
General Purpose Plugs - BARREL PLUG FLANGED LDPE
M30
M27x1, M28x2

1.045

0.472

28.0

1.102

0.354

2500

500

50

BPF381
Flanged Barrel Plugs - BARREL PLUG FLANGED LDPE
1-3/16 - 12
7/8

1.121

0.591

36.0

1.417

0.472

2500

500

50

BPF390
Plastic Barrel Plugs - BARREL PLUG FLANGED LDPE
M30x1.5

1.147

0.591

36.0

1.417

0.472

2500

500

50

BPF391
Barrel Plugs with Flanges - BARREL PLUG FLANGED LDPE
1

1.185

0.591

36.0

1.417

0.472

2500

500

50

BPF400
Barrel Plugs with Flanges - BARREL PLUG FLANGED LDPE
1
M31x1, M32x2
1

1.206

0.591

36.0

1.417

0.472

2500

500

50

BPF410
General Purpose Plugs - BARREL PLUG FLANGED LDPE
M32x1.5
1

1.225

0.591

36.0

1.417

0.472

2500

500

50

BPF411
Flanged Barrel Plugs - BARREL PLUG FLANGED LDPE
1-5/16 - 12

1.238

0.591

36.0

1.417

0.472

2500

500

50

BPF420
Plastic Barrel Plugs - BARREL PLUG FLANGED LDPE
M36
M33x1.5

1.264

0.492

36.0

1.417

0.394

1000

200

20

BPF430
Barrel Plugs with Flanges - BARREL PLUG FLANGED LDPE
M34x1, M35x2, M36x3

1.322

0.551

36.0

1.417

0.472

1000

200

20

BPF440
General Purpose Plugs - BARREL PLUG FLANGED LDPE
M36x1.5

1.376

0.709

42.0

1.654

0.591

1000

200

20

BPF450
Flanged Barrel Plugs - BARREL PLUG FLANGED LDPE
M39
M36x1, M37x2, M38x3
1-1/8

1.403

0.709

42.0

1.654

0.591

1000

200

20

BPF460
Plastic Barrel Plugs - BARREL PLUG FLANGED LDPE
M36x1, M37x2, M38x3

1.442

0.709

42.0

1.654

0.591

1000

200

20

BPF470
Barrel Plugs with Flanges - BARREL PLUG FLANGED LDPE
M39x1, M40x2

1.515

0.492

42.0

1.654

0.394

1000

200

20

BPF480
Barrel Plugs with Flanges - BARREL PLUG FLANGED LDPE
1-1/4
M40x1.5, M42x3

1.539

0.709

42.0

1.654

0.591

1000

200

20

BPF481
General Purpose Plugs - BARREL PLUG FLANGED LDPE
1-5/8 - 12
1-1/4
1-1/4

1.560

0.709

42.0

1.654

0.591

1000

200

20

BPF490
Flanged Barrel Plugs - BARREL PLUG FLANGED LDPE

1.578

0.709

42.0

1.654

0.591

1000

200

20

BPF500
Plastic Barrel Plugs - BARREL PLUG FLANGED LDPE
M45
M42x1.5, M42x2

1.606

0.709

45.0

1.772

0.591

1000

200

20

BPF510
Barrel Plugs with Flanges - BARREL PLUG FLANGED LDPE
M45x3

1.670

0.709

48.0

1.890

0.591

1000

200

20

BPF511
General Purpose Plugs - BARREL PLUG FLANGED LDPE
1-1/2
1-1/2

1.771

0.709

52.0

2.047

0.591

1000

200

20

BPF520
Flanged Barrel Plugs - BARREL PLUG FLANGED LDPE
1-7/8 - 12
M50x4
1-1/2

1.818

0.827

55.0

2.165

0.709

1000

200

20

BPF530
Plastic Barrel Plugs - BARREL PLUG FLANGED LDPE
M50x2

1.915

0.591

55.0

2.165

0.472

500

100

10

BPF531
Barrel Plugs with Flanges - BARREL PLUG FLANGED LDPE
2 - 12

1.936

0.827

55.0

2.165

0.709

500

100

10

BPF540
Barrel Plugs with Flanges - BARREL PLUG FLANGED LDPE
M52x1
1-3/4

2.031

0.827

55.0

2.165

0.709

500

100

10

BPF550
General Purpose Plugs - BARREL PLUG FLANGED LDPE
M56x1.5

2.172

0.827

63.0

2.480

0.709

500

100

10

BPF551
Flanged Barrel Plugs - BARREL PLUG FLANGED LDPE
2-1/4 - 12

2.186

0.827

63.0

2.480

0.709

500

100

10

BPF560
Plastic Barrel Plugs - BARREL PLUG FLANGED LDPE
2-1/4 - 12
M56x1

2.203

0.827

63.0

2.480

0.709

500

100

10

BPF561
Barrel Plugs with Flanges - BARREL PLUG FLANGED LDPE
2
2

2.251

0.827

63.0

2.480

0.709

500

100

10

BPF570
General Purpose Plugs - BARREL PLUG FLANGED LDPE
M64
M62x4

2.288

0.827

63.0

2.480

0.709

500

100

10

BPF580
Flanged Barrel Plugs - BARREL PLUG FLANGED LDPE
M60x1.5

2.327

0.839

63.0

2.480

0.709

500

100

10

BPF581
Plastic Barrel Plugs - BARREL PLUG FLANGED LDPE
2-1/2 - 12

2.438

0.843

67.0

2.638

0.709

500

100

10

BPF590
Barrel Plugs with Flanges - BARREL PLUG FLANGED LDPE
M70x4

2.603

0.846

71.0

2.795

0.709

500

100

10

BPF600
Barrel Plugs with Flanges - BARREL PLUG FLANGED LDPE
M72x1.5, M75x4

2.801

0.866

78.0

3.071

0.709

250

50

5

BPF620
General Purpose Plugs - BARREL PLUG FLANGED LDPE
M90x4

3.394

0.760

95.0

3.740

0.709

250

50

5

Part #
Description
To Fit STD Thread
To Fit NPT
Metric
Regular
threads
Metric Fine Threads
To Fit BSP
Large Diameter

Overall Length

Flange OD

Length


Box

/

Mini

/

Micro


QTY

See Prices / Buy Online
Legend:
- Add to Basket
- View Price
Micropacks are only available for purchase through our online store.
Not sure what part you need? Would you like to consider another type or part, or a different material?
Consult MOCAP's
Application Advisor
for assistance.
Barrel Plugs with Flanges - Information
MOCAP Barrel Plugs with a Flange are general purpose plugs designed to fit many different non-threaded and threaded sizes and styles, allowing for maximum flexibility. Easy to apply and remove, their convex body holds them firmly in place.


Our BPF Series Plugs are moulded in
Natural
polyethylene plastic
and sized to fit 1/16" - 2" NPT or 1/4-20 - 2-1/2" -12" UN or 1/16" - 1-3/4" BSP or M8 - M90 Threads/Holes
Many Sizes of Our Barrel Plugs with Flanges are Stocked for Immediate Shipment.
Most stock sizes are available in Mini-Packs when Smaller Quantities are Needed. To place an order for this product, call 0800 046 7436 or use our
Contact Request Form
to receive information by e-mail.