View Larger Image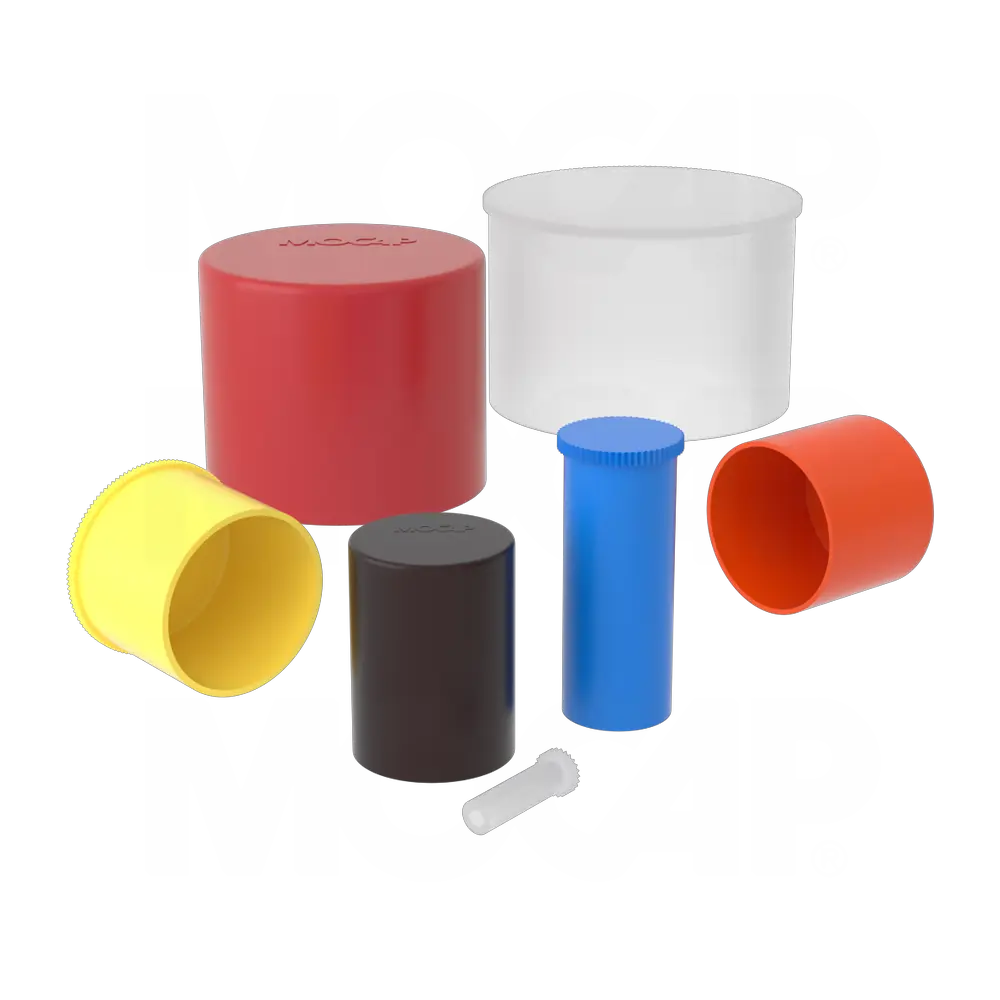 Material: LDPE (Red)
General Purpose Outside Fitting Caps
Snug Fit for Threaded or Non-Threaded Tubes, Rods and Fittings
Part #
Description
Inside Diameter

Inside Length


Box

/

Mini

/

Micro


QTY

See Prices / Buy Online

S.125-10SRD1
Straight Plastic Caps - 0.125" STR CAP 0.625" LONG RED

0.122

0.625

5000

1000

100

S.156-10SRD1
Cylindrical Plastic Caps - 0.156" STR CAP 0.625" LONG RED

0.153

0.625

5000

1000

100

S.187-10SRD1
Plastic Straight Caps - 0.187" STR CAP 0.625" LONG RED

0.184

0.625

5000

1000

100

S.250-14SRD1
Straight Polyethylene Plastic Caps - 0.250" STR CAP 0.875" LONG RED

0.246

0.875

5000

1000

100

S.313-14SRD1
Plastic Caps for threaded and non-threaded tubing - 0.313" STR CAP 0.875" LONG RED

0.308

0.875

5000

1000

100

S.375-14SRD1
Straight Plastic Caps - 0.375" STR CAP 0.875" LONG RED RED

0.370

0.875

5000

1000

100

S.437-14SRD1
Cylindrical Plastic Caps - 0.437" STR CAP 0.875" LONG RED

0.432

0.875

5000

1000

100

S.500-14SRD1
Plastic Straight Caps - 0.500" STR CAP 0.875" LONG RED

0.494

0.875

5000

1000

100

S.563-14SRD1
Straight Polyethylene Plastic Caps - 0.563" STR CAP 0.875" LONG RED

0.557

0.875

5000

1000

100

S.625-14SRD1
Straight Plastic Caps - 0.625" STR CAP 0.875" LONG RED

0.619

0.875

5000

1000

100

S.687-14SRD1
Cylindrical Plastic Caps - 0.687" STR CAP 0.875" LONG RED

0.681

0.875

5000

1000

100

S.750-14SRD1
Plastic Straight Caps - 0.750" STR CAP 0.875" LONG RED

0.743

0.875

5000

1000

100

S.813-14SRD1
Straight Polyethylene Plastic Caps - 0.813" STR CAP 0.875" LONG RED

0.804

0.875

5000

1000

100

S.875-14SRD1
Plastic Caps for threaded and non-threaded tubing - 0.875" STR CAP 0.875" LONG RED

0.865

0.875

5000

1000

100

S.937-16SRD1
Straight Plastic Caps - 0.937" STR CAP 1.000" LONG RED

0.926

1.000

2500

500

100

S1.000-16SRD1
Cylindrical Plastic Caps - 1.000" STR CAP 1.000" LONG RED

0.985

1.000

2500

500

50

Part #
Description
Inside Diameter

Inside Length


Box

/

Mini

/

Micro


QTY

See Prices / Buy Online
Legend:
- Add to Basket
- View Price
​
Micropacks are only available for purchase through our online store.
​
Not sure what part you need? Would you like to consider another type or part, or a different material?
Consult MOCAP's
Application Advisor
for assistance.
Straight Plastic Caps - Information
MOCAP Round Plastic Straight Caps are designed to fit over threaded and non-threaded tubing, rods and fittings, forming a snug friction fit.
These
straight polyethylene plastic caps
are ideal for use as shipping caps, end caps, pipe caps, product protection, paint protection, thread protectors.
Also good for masking
against paint, plating and grit blasting.
Durable and Inexpensive
Use as End Cap, Shipping Cap, Pipe Cap
Sizes to Fit 1/8" to 1" Diameters
Most stock sizes are available in Mini-Packs when Smaller Quantities are Needed. To place an order for this product, call 0800 046 7436 or use our
Contact Request Form
to receive information by e-mail.
Many Sizes of Our Straight Plastic Caps are Stocked for Immediate Shipment.