Threaded Plastic Plugs for Flat-Faced O-Ring Fittings
FOP
View Larger Image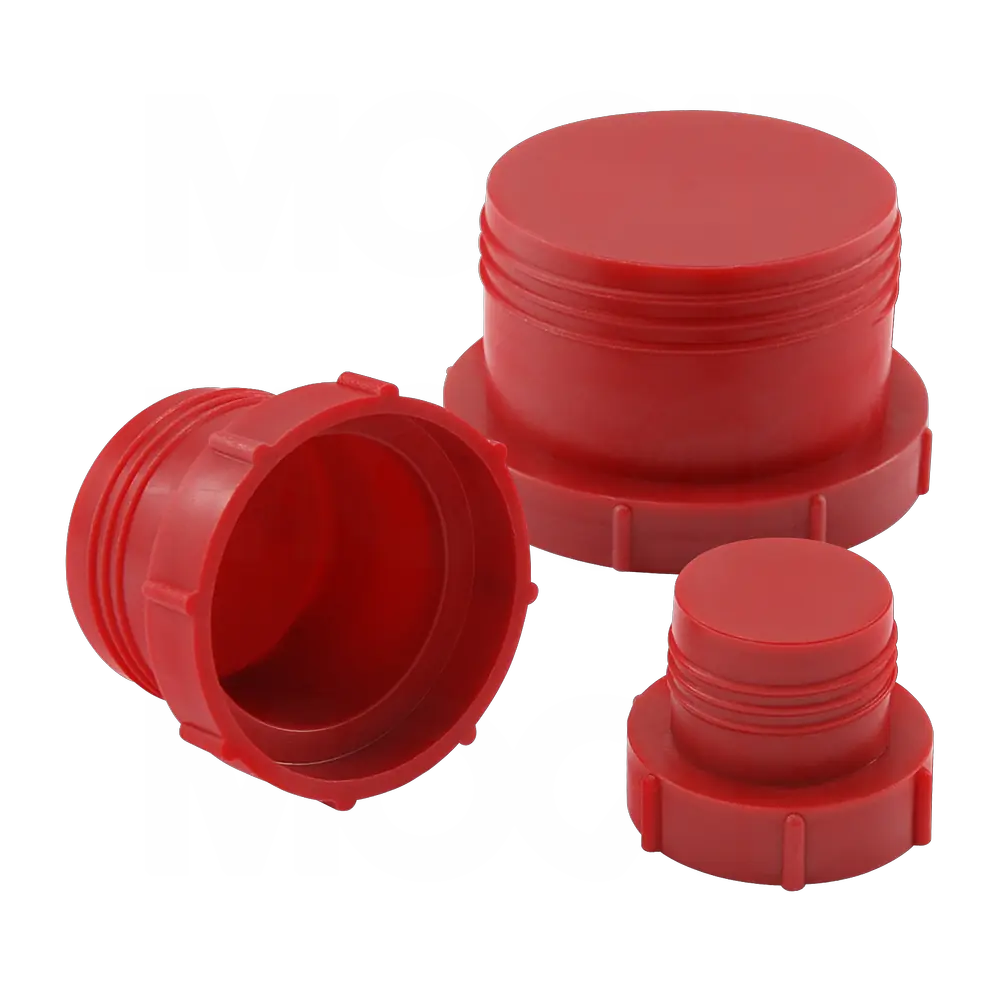 Material: LDPE
Stocked Material: LDPE (Red)
Knurled Grip for Easy Application and Provide a Better-than-Normal Seal with Only Hand-Tightening
Part #
Description
Tube Size

To Fit STD Thread
Length

Flange OD


Box

/

Mini

/

Micro


QTY

See Prices / Buy Online

FOP200
Threaded Plastic Plugs for Flat-Faced O-Ring Fittings - PLUG FOR 11/16-16 FLAT FACE O-RING FTNG OR 3/8 TUBE

9.5

0.375

11/16 - 16

0.440

22.1

0.870

5000

1000

100

FOP210
Threaded Plastic Plugs for Flat-Faced O-Ring Fittings - PLUG FOR 13/16-16 FLAT FACE O-RING FTNG OR 1/2 TUBE

12.7

0.500

13/16 - 16

0.500

23.9

0.940

2500

500

50

FOP220
Plastic Bolt for Flat-Faced O-Ring Fittings - PLUG FOR 1-14 FLAT FACE O-RING FTNG OR 5/8 TUBE

15.9

0.625

1 - 14

0.590

29.5

1.160

2500

500

50

FOP230
Flat-Faced O-Ring Plug Caps (Polyethylene Plastic) - PLUG FOR 1-3/16-12 FLAT FACE O-RING FTNG OR 3/4 TUBE

19.1

0.750

1-3/16 - 12

0.630

33.8

1.330

2500

500

50

FOP240
Polypropylene Flat-Faced O-Ring Plugs - PLUG FOR 1-7/16-12 FLAT FACE O-RING FTNG OR 1 TUBE

25.4

1.000

1-7/16 - 12

0.750

41.4

1.630

1000

200

20
Legend:
- Add to Basket
- View Price
​
Micropacks are only available for purchase through our online store.
​
Not sure what part you need? Would you like to consider another type or part, or a different material?
Consult MOCAP's
Application Advisor
for assistance.
Threaded Plastic Plugs for Flat-Faced O-Ring Fittings - Information
MOCAP Threaded Plastic Plugs are designed for use on Flat Faced O-Ring fittings. These Threaded Plastic Plugs have a ridged finish for easy use in manual assembly.
Protects threaded fittings from moisture, dust and damage during production, shipping and storage.
Our FOP Series Threaded Plugs are moulded in
Red
polyethylene plastic
and sized to fit Flat Faced O-Ring Fittings from 11/16-16 thru 1-7/16-12 or tubes from 3/8 thru 1.
Many Sizes of Our Threaded Plastic Plugs for Flat-Faced O-Ring Fittings are Stocked for Immediate Shipment.
Most stock sizes are available in Mini-Packs when Smaller Quantities are Needed. To place an order for this product, call 0800 046 7436 or use our
Contact Request Form
to receive information by e-mail.