Flanged Plastic Caps for Standard Straight Threads
FCS
View Larger Image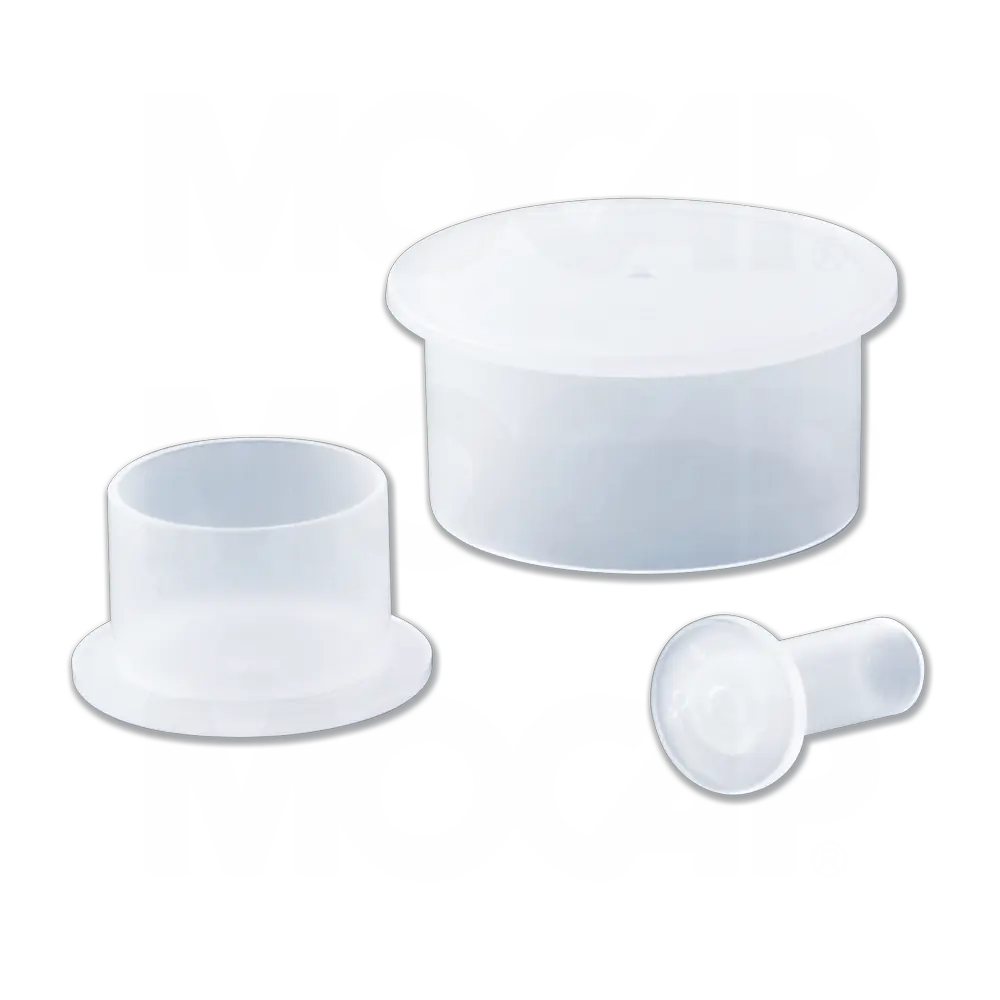 Material: LDPE (Natural)
Flanged for Easy Removal
Use as Thread Protector or End Cap
Part #
Description
To Fit STD Thread
Inside Diameter

Inside Length

Flange OD


Box

/

Mini

/

Micro


QTY

See Prices / Buy Online

FCS.437NA1
Flanged Plastic Caps for Standard Straight Threads - FLANGE CAP FOR 0.4375" (7/16") STR THRDS LDPE NATURAL
7/16

0.428

0.470

17.5

0.690

5000

1000

100

FCS.500NA1
Metric Threads - Flared Plastic Caps - FLANGE CAP FOR 0.500" (1/2") STR THRDS LDPE NATURAL
1/2

0.490

0.470

19.1

0.750

5000

1000

100

FCS.563NA1
Standard Straight Threads - Flanged Caps - FLANGE CAP FOR 0.5625" (9/16") STR THRDS LDPE NATURAL
9/16

0.550

0.500

20.6

0.810

5000

1000

100

FCS.687NA1
Plastic Caps for Standard Straight Threads - FLANGE CAP FOR 0.6875" (11/16") STR THRDS LDPE NATURAL
11/16

0.676

0.500

23.9

0.940

5000

1000

100

FCS.750NA1
Polyethylene Plastic Caps for Standard Threads - FLANGE CAP FOR 0.750" (3/4") STR THRDS LDPE NATURAL
3/4

0.738

0.670

25.4

1.000

5000

1000

100

FCS.813NA1
Flanged Plastic Caps for Standard Straight Threads - FLANGE CAP FOR 0.8125" (13/16") STR THRDS LDPE NATURAL
13/16

0.802

0.560

26.9

1.060

5000

1000

100

FCS.875NA1
Metric Threads - Flared Plastic Caps - FLANGE CAP FOR 0.875" (7/8") STR THRDS LDPE NATURAL
7/8

0.864

0.660

28.4

1.120

4300

860

86

FCS1.000NA1
Standard Straight Threads - Flanged Caps - FLANGE CAP FOR 1.000 (1") STR THRDS LDPE NATURAL
1

0.990

0.660

31.8

1.250

3000

600

60

FCS1.062NA1
Plastic Caps for Standard Straight Threads - FLANGE CAP FOR 1.0625" (1-1/16") STR/M27 THRDS LDPE NATURAL
1-1/16

1.051

0.750

33.3

1.310

2400

480

48

FCS1.187NA1
Flanged Plastic Caps for Standard Straight Threads - FLANGE CAP FOR 1.1875" (1-3/16") STR/M30 THRDS LDPE NATURAL
1-3/16

1.175

0.750

36.6

1.440

2000

400

40

FCS1.313NA1
Metric Threads - Flared Plastic Caps - FLANGE CAP FOR 1.3125" (1-5/16") STR THRDS LDPE NATURAL
1-5/16

1.298

0.750

39.6

1.560

1800

360

36

FCS1.437NA1
Standard Straight Threads - Flanged Caps - FLANGE CAP FOR 1.4375" (1-7/16") STR THRDS LDPE NATURAL
1-7/16

1.426

0.750

42.9

1.690

1500

300

30

FCS1.625NA1
Plastic Caps for Standard Straight Threads - FLANGE CAP FOR 1.625" (1-5/8") STR THRDS LDPE NATURAL
1-5/8

1.612

0.850

47.8

1.880

1000

200

20

Part #
Description
To Fit STD Thread
Inside Diameter

Inside Length

Flange OD


Box

/

Mini

/

Micro


QTY

See Prices / Buy Online
Legend:
- Add to Basket
- View Price
​
Micropacks are only available for purchase through our online store.
​
Not sure what part you need? Would you like to consider another type or part, or a different material?
Consult MOCAP's
Application Advisor
for assistance.
Flanged Plastic Caps for Standard Straight Threads - Information
MOCAP FCS Series flanged polyethylene plastic caps are designed to protect standard straight threads. The natural colour of the flanged plastic caps allows visual verification of the threads or o-ring. Flanged caps for standard straight threads are easy to assemble or remove by hand or automated equipment.
FCS Series available in sizes to fit 7/16" through 1-5/8" straight threads.
Additional series available to fit
Standard Straight Threads and BSP and NPT Threads
.
Flanged for Easy Removal
Use as Thread Protector or End Cap
Sizes Also Available For Metric, BSP & NPT Threads and Fittings
Flanged Plastic Caps are Stocked for Immediate Shipment
All Flanged Plastic Caps are Available in Mini-Paks when Less than Box Quantities are Needed